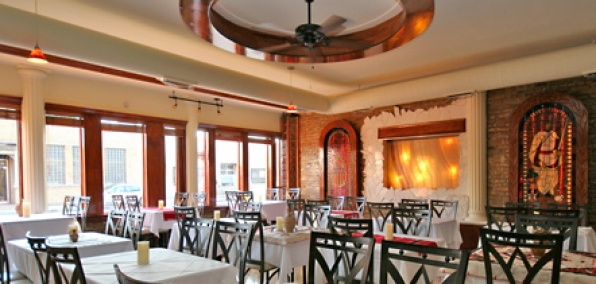 You've been thinking of doing some travel. You want a place steeped in the traditions and mystery of Old Europe, yet reveling in the energy of New Europe.

And if it's not too much to ask, a place that will send a limo for you.

Say hello to the Little Bucharest Bistro, opening tomorrow in Old Irving Park.

When you enter, you'll feel like a Romanian buddy has taken you home for dinner with the parents. They'll excitedly show you the stained-glass light boxes featuring national heroes. They'll try and wow you with a framed onyx fountain. But they'll finally win you over with a bit of tuica—a delicious Romanian brandy.

You might have known the spot as the Romanian hangout Continental Café, but its owner has snagged a hot chef (late of the West Loop's Grocery Bistro) to modernize your goulash—now served with short ribs, truffled gnocchi and poached cherries. They've also broadened the menu to include sashimi-style gravlax drizzled and caper vinaigrette, and Pork Chop Vesuvio Style with tarragon-lemon sauce—but if you still crave old-fashioned Veal Paprikash, ask for the original menu and you'll be taken care of like family.

Eventually, you'll be able to take advantage of a famous perk from the original Little Bucharest: complimentary limousine service to shuttle you and a date to a romantic weekend dinner.

Some traditions are worth preserving.