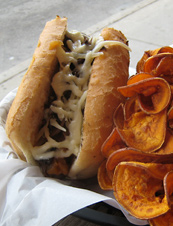 When it comes to encased meats, we all know that Hot Doug's is king—we bow before his foie gras sausage. We lay prostrate in the presence of his duck fat fries.
Perhaps, however, there's room for a prince.
So we herald the arrival of
Chicago's Dog House
, a three-week-old sausage place run by a pair of 25-year-olds finding bold and delectable ways to elevate the humble hot dog.
Once inside this tiny storefront across from DePaul's Lincoln Park campus, you'll push past the stylishly rustic corrugated metal walls, a reclaimed barn-wood window counter, and a pair of tables made from decommissioned bowling lanes, to the chalkboard with 18 creative dogs on offer.
As you contemplate having the rib eye, alligator or duck sausage, you'll discover some even crazier offerings: the
T-Frank
, a Vienna Beef frank slathered with cream cheese and emboldened with crispy strips of bacon, avocado and a spicy house-made tomatillo salsa; and
The French Poodle
, with brie and pear. There's even talk of a pheasant sausage with a cognac sauce. Yet it just may be the long ribbons of curly fries—carved from a single potato by way of a spiral slicer rigged to a cordless hand drill—that steal the show.
You've always loved a good usurper.