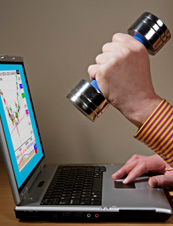 You two had a great thing going. Saw each other pretty regularly, and things always got hot. Soaked in sweat.
But there were problems. Traveling got in the way. Your get-togethers took too much of your time, and too much of your money. And sometimes...you can't help it. You cheat.
So it might be time to ditch your personal trainer for something far more modern. Like a new website called
FitOrbit
.
The idea is simple enough: for just $9.99 a week, you get a trainer who resides solely online, at least as far as you're concerned. She—or he…you can choose—will create a personalized plan for you, with video instructions and everything. And then they'll prod you with encouraging/disparaging emails until you have no choice but to maintain it.
So once you've gotten your workout plan and menu in place, you just have to do a bit of online maintenance to log how well you're sticking to the program—if you clocked some extra cardio last night, you might get a break on calories today. But if you got down a few martinis instead, well, you might be sticking to salads for a day or two.
Either way, it was probably worth it.