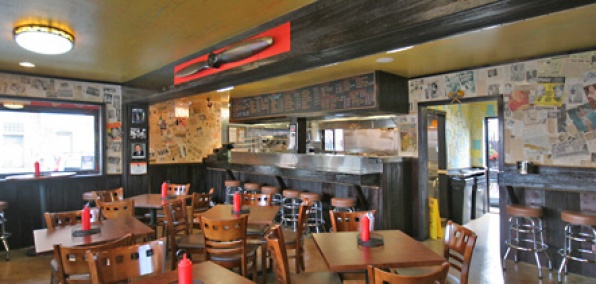 A good Cuban sandwich is hard to find, so when you do, you better hold on to it.

Or at least make a good copy.

Therefore, we're pleased to bring you news of a second 90 Miles Cuban Café, landing on the shores of Logan Square on Monday.

Not quite a dead ringer for its Bucktown sibling, but with its bright, sunny murals, you're not going to have any trouble recognizing it. Inside, you'll be seduced by boisterous mambo rhythms and walls plastered with faded clippings from the island's heyday, including pages from vintage Cuban pinup mags (talk about Copacabanas…). The menu's mostly the same as the original, though a few new dishes (red snapper, braised oxtail) will debut over the next few weeks. However, we see no reason to stray from your lunch ritual of a hearty Cuban thick with house-roasted ham, and pork and smothered in Swiss.

And on warm afternoons—should those ever arrive this year—you'll want to take up residence on the back patio. If a strong, sugary Café Cubano (balanced with just a hint of salt) isn't your thing, knock back a few papaya shakes. And since 90 Miles is BYOB, you can add a dash of your favorite rum.

After all, it's a free country.