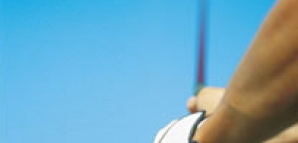 Your golf game could use a little resuscitation.
Lucky for you, the doctor is in.
The Golf Doctor, that is.
Dr. Christian Reichardt
(actually a real doctor—of sports medicine) has just opened his doors for service at
The Club
in Santa Monica, and is ready to diagnose and prescribe for your golf game.
Upon entering the simple, sparse warehouse space, you first fill out a form detailing your game and goals. Dr. Reichardt and his trainers will then videotape, download and analyze your swing, test your core strength and flexibility, and break down your mental approach. During the process, you'll get to use the ProSim golf simulator, which allows up to four people to play a full round of virtual golf on a massive video projection wall. Then the good doc will put together a program based on this initial test, which includes everything from swing adjustments to workout suggestions. With an emphasis on core strength, flexibility and balance, they are all about building "golf bodies" (think more Tiger Woods, less John Daly).
While you're there, be sure to try the Power Vibe machine—originally designed by the Russians for Cosmonaut training, it uses micro vibrations to work all the appropriate golf muscle groups in minutes
.
Now if we can just get them to add a beer cart.