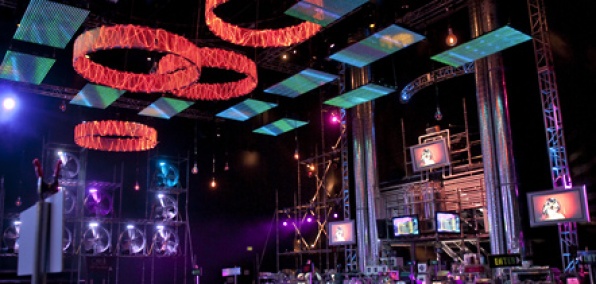 We've introduced you to a complicated world.
A place where
wine glasses never break
, you can practice your chip shot
with an umbrella
and
smoothies and teriyaki
live together in harmony.
It's all adequate preparation for what we're poised to bring you today: the
G Lounge at Fuerza Bruta
, a nightclub so astonishingly futuristic, it can only be open temporarily.
Orchestrated by the city's master envelope-pusher, Barton G, the Lounge is what you'd find if Willy Wonka and Mad Max opened a club together and decided to make liquid nitrogen the main cocktail ingredient. Sort of like a post-apocalyptic watering hole, the cavernous space is all graffiti-ed up and outfitted in cinder-block seating, with a bar slapped together from hurricane shutters. And instead of martini shakers behind the bar, you're treated to stainless steel drums and plastic tubing, which lead to glass cases of smoky, sci-fi concoctions like frozen tequila shots and chocolate bananas on a stick (BYO hammer).
Naturally, it would be impossible to sustain this level of nightlife weirdness full-time, so the lounge is only open before and after performances of
Fuerza Bruta
, a trippy experimental dance mind-bender. After the show, you'll want to extend the dreamy visual mélange with dystopian-punk drinks like the
Megavolt
and the
Nitro Cosmo
.
So much better than the Nitrotini.