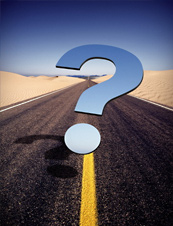 Sure, the search engine has revolutionized your life, helping you find everything from the capital of Paraguay (Asunción, obviously) to pictures of Jessica Alba in various states of undress. But sometimes you have questions ("Should I hook up with that flirty barista?") that Google can't answer.
That's why we're fascinated with
Let Simon Decide
and
Hunch
, two new sites that aim to solve just these sorts of quandaries. (Both are beta testing now.)
In the spirit of science, we put our UD Labs® team on the case, testing them both with some of life's most pressing questions. The results:
Q: SHOULD I WEAR BOXERS OR BRIEFS?
Hunch's Answer
: Briefs
Simon's Answer
: Briefs
UD Labs  Analysis
: While Hunch was considerate enough to ask about our offspring ("Are you currently trying to make a baby?"), we're concerned that neither considered the
Sasha Grey–approved
alternative: boxer briefs.
Winner: Tie
Q: SHOULD I QUIT MY JOB?
Hunch's Answer
: "Yes! Get out of there alive! Better start looking though"
Simon's Answer
: "Stay at your job," but try getting another perspective
UD Labs Analysis
: Have you
been
outside lately? No one should quit their job.
Winner: Simon
Q: SCARLETT JOHANSSON AND MEGAN FOX HAVE BOTH ASKED ME ON A DATE. WHICH ONE SHOULD I ACCEPT?
Hunch's Answer
: Try
Meagan Good
instead
Simon's Answer
: Scar-Jo
UD Labs Analysis:
Really, there's no wrong answer here, and yet Hunch managed to find it.
Winner: Simon
CONCLUSION:
Simon seems to have the slight edge here. Of course, you could always
flip a coin
.