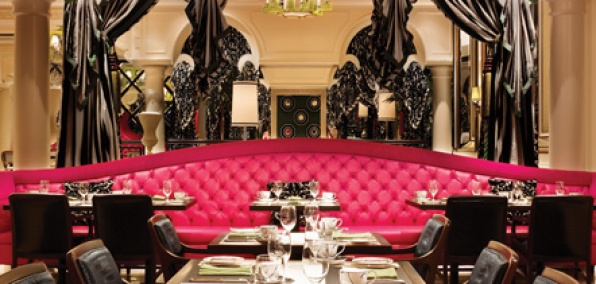 Dig, if you will, a picture:
 
You're stepping away from a craps table after the most incredible string of luck you've ever experienced. Your hands are shaking with excitement, your pockets are stuffed with uncounted chips, and your head is spinning like a roulette wheel. In short, you need a drink. And you have absolutely no idea what time it is.
 
Luckily, Vegas is Vegas, and it doesn't much matter.

All you have to do is locate Society Bar, a new spot in the Encore that changes up their menu as the clock turns, giving you a stiff, chronologically appropriate drink no matter when you stumble in, open now.

Society Bar is the more booze-oriented half of Society Café, and its ingenious libation system looks something like this: the "Bloody Society" menu kicks off at 7am with a set of variations on the Bloody Mary that should be enough to let you know it's morning. As the day winds on, the tomato and Tabasco give way to "Oliver's Twists," offering mojitos and margaritas spiced up with anything from pineapple juice to Red Bull. And, as the sun heads down, they break out the Absinthe and let the green fairy take over.

Which might even be enough to inspire another winning streak.