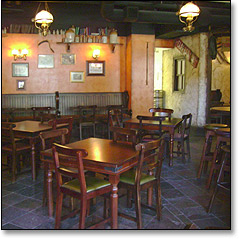 If you haven't made it to snow-starved Mammoth this winter, we don't blame you. But with four feet of recently fallen white stuff on the mountain just begging for some spring skiing, and a new Irish restaurant recently opened, this weekend may be a great time to make like the snakes chased by St. Patrick and head for slopes and the
Auld Dubliner
.
Like all good Irish pubs, the Auld Dubliner's bar and furnishings came from Ireland—but the owners took it to the next level and even brought Irish workmen over to build the restaurant (Southern Californians just can't hold a jigsaw). With hardwood floors and blacksmiths' tools on the wall, it has tons of old world charm with no risk of scurvy.
Even better, Auld Dubliner's authenticity doesn't stop with the decor—traditional dishes won't disappoint, like the incredibly tasty Boxty (a potato pancake stuffed with chicken, corned beef or salmon). The bar stocks hard-to-find Irish whiskies and Imperial pints that weigh in at 20 oz instead of the usual 16 (to keep you extra warm).
They've fine-tuned the gas levels in the taps to accommodate the 8,000 foot altitude, ensuring a perfect pour. Like dating a nice Irish ski bunny, though, you'll have to wait for it—it takes about three minutes to build a pint right.
Though that's still shorter than the lift lines will be.