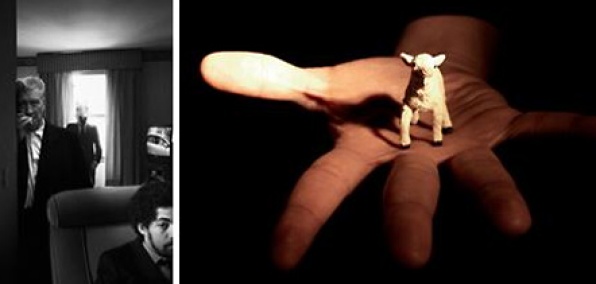 After a long weekend of sun-drenched leisure, you're feeling invincible. Ready for anything.

Maybe even a surreal trip into the mysterious psyche of David Lynch, who has paired up with (sure, why not) Danger Mouse to help spice up your week. Prepare for the only-in-LA strangeness that is Dark Night of the Soul, a new exhibit opening Saturday.

Stay close, and we'll guide you through. At Saturday's party you'll be greeted by a sort of late-May haunted house, a two-room mishmash of 50 photos by Lynch—distorted faces, nighttime Americana, miniature sheep—hung from aluminum panels.

And as for the soundtrack, well, that would be the new album (also called Dark Night of the Soul) that inspired the photos, after Danger Mouse—notorious producer and half of Gnarls Barkley—bravely asked Lynch to visually riff on his music. The reclusive Sparklehorse is on the album, too, and between involuntary shudders as you move through the gallery, you'll also hear Julian Casablancas, Iggy Pop and the Flaming Lips.

But if the sensory overload you're experiencing isn't nearly overload-y enough, not to worry—they also put together a DNOTS photo book.

Which you might want to read out in the sunlight.