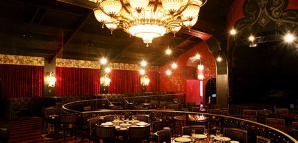 You'll quickly forget you're in the Valley—and possibly the U.S.—once you set foot in
Romanov
, the new Russian steakhouse and lounge soft opening this Monday night in Studio City.
Mikayel Israyelyan, who owns businesses ranging from
Republic
to a casino in Russia, spent two years creating the space modeled after the Tsar's residence in St. Petersburg. Inspirationally, he decided to forgo the pesky constraints of a budget and go all-opulent, all the time: 24-karat gold leaf everywhere, rosewood and mahogany floors and a $200,000 custom-made chandelier hanging above it all.
Romanov's menu offers Russian specialties like
Braised Brisket
and
Quail Kiev
along with caviar, American-style steaks and hard-to-find vodkas. Piano players take the stage most nights, but Israyelyan is in the process of importing Russian Gypsies for weekend performances (no, we're not kidding).
Naturally, tsar-like treatment is available upon request. The staff can arrange for limo service or book you Romanov's private dining room, which comes equipped with white-gloved waiters, a hand-carved fireplace, a bookcase of Russian literature (if you're feeling intellectual) and a plasma television (if you're not). Or, cut to the chase by blowing $2800 on a Faberge egg-shaped bottle of vodka topped with a crown or $100 tea (brewed in a gold pot once used by the Russian royal family).
Studio City never seemed so regal.