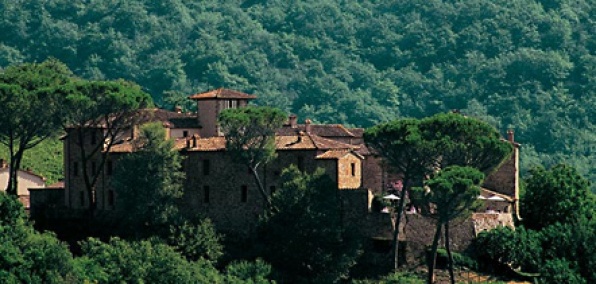 The past thousand years have brought us a lot of pretty fantastic stuff—the printing press, béarnaise sauce and Megan Fox, just off the top of our heads—but sometimes, you just want to get medieval. A few weeks as a feudal lord should do the trick.

Introducing the Castel Monastero, an eleventh-century Tuscan estate revamped into the modern-day fiefdom you've always wanted, taking reservations now for a July 1 opening.

It's less a hotel than a self-contained kingdom in a tucked-away Tuscan valley, complete with olive groves, a vineyard and a noticeable absence of BlackBerries. The village dates back to the Crusades, and aside from the spa and a few new pools, little has changed—there are still plenty of frescoes to be seen. And it wouldn't be an estate without a full roster of servants, so you'll have an on-site butler, a personal chef and a fully-stocked stable of horses at your disposal, as befits your station.

Naturally, this is still Tuscany, so the biggest prize is dinner. Gordon Ramsay has a gourmet spot set up in the village square, but for a more intense medieval experience, we'd venture downstairs to the wine cellar, where you can get traditional Tuscan fare surrounded by a few hundred casks of the castle's finest wine.

We're guessing they'll provide the appropriate goblet.