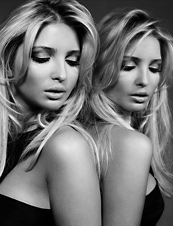 Fresh off the season finale of
Celebrity Apprentice
, celebrity judge and daughter-of-Donald, Ivanka Trump, rolls into Miami to host a series of trunk shows of her jewelry line to benefit the PlayGround Theatre in Miami Shores. She took a powerbreak to talk with us about diamonds, being a woman in a man's world and her favorite spots in Miami.
UD: Tell us about your jewelry line, how involved are you in the designs? 

IT: I'm very involved in the designs and it's fun. I work with all men, so it's nice to have an outlet for the feminine aspect of my personality.
UD: And how is that for you—being the only woman in the boardroom?

IT: Well, it's all I've known in my working life. So I'm pretty much used to that. But I see it's starting to change, which is nice. And I have other businesses that are more gender-balanced.
UD: What's the most expensive piece in your jewelry line?

IT: We've got rings that go north of a million. But there's also this great necklace that is my take on a string of pearls, except it's all pavé diamonds.
UD: And how much is that?

IT: That's $350,000.
UD: We might have that on us.

IT: But one of the great things about our collection is that we have pieces starting at $600 and go upwards from there. So we have a great range.
UD: What piece would you recommend for a guy who's trying to impress a girl?

IT: Oh, what piece
wouldn't
I recommend? I think all jewelry impresses women. There's nothing from my store that a woman would be unsatisfied in receiving.
UD: How often are you in Miami? 

IT: I go to Mar-A-Lago [in Palm Beach] as often as I can. Whenever I can escape. But I visit Miami less often. I'm there maybe five times a year.
UD: What are some of your favorite places?

IT: Most of the time when I'm in Miami I'm meeting a friend for dinner at their house. I'm not huge into clubs. I view Florida as an escape. I go for the beach, the tennis, the golf. And then I have nice leisurely dinners with friends. There are enough clubs in New York, so that's not part of my experience in Florida.
UD: Any restaurants in Miami that you'd recommend?

IT: I love Barton G. and Nobu. Oh! And I would be remiss if I did not mention one of my favorites is Quattro. We actually just finalized a deal with the Quattro restaurants to bring them to our hotel-condo in Soho. So they'll be the flagship restaurant at Trump SoHo.
UD: What advice would you give to someone starting out in business in this climate?

IT: I think this is a fantastic time. Assuming you're not losing your ass. And even then there are some great opportunities. You have to know how to shore up the resources you have available. If you do have cash, you're in an amazing position to make incredible deals.
UD: Especially here.

IT: Yes, the amount of distressed properties in South Florida real estate is incredible. I think it's a tremendous time for a first-time home buyer to start considering purchasing real estate. You just need to have the cash on hand.
UD: Anything you're looking at in Miami?

IT: We're looking at a ton.