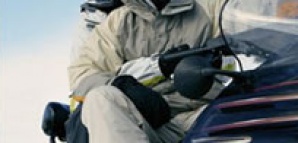 We love the city, but let's face it, we love leaving it even more. Hence Get Out of Dodge, which periodically hooks you up with the best weekend getaways just a short skip away. Get going...
Not only is it Monday, but it's getting close to Groundhog Day and there hasn't been a decent snowfall all winter. Well, if the snow won't come to you, go to it—by snowmobile.
Escape to Maine and
rent your snowmobile of choice
—try the MXZ 550 Fan, with front and rear suspension, sweet yellow exterior and 90-mph speeds (watch out for that tree). Once you do that, you've got the 13,000-plus miles of groomed-for-riding trails of the
ITS
to choose from—your only limitation is your stamina and your creativity.
Spend your days riding through trails of pine forests, ice-bound waterfalls and scenic mountain ranges. Eat and sleep at any of the trail-accessible lodges and dining rooms along the way, which are packed together like nightclubs in the meatpacking district. Some potential pit stops:
The Forks Resort Center
, where you can warm up in their giant outdoor hot tub and cool down with a few pints at their Kennebec River Brewery.
The Big Moose Inn
, where you can spend the night in a lakeside cabin and the day ice fishing (
pick up your fishing license first
) and scoping out the local moose population.
Pittston Farm
, where three times a day you will be blessed with an all-you-can-eat, lumberjack style buffet (to pack on a little fat for the cold rides ahead). If you find yourself in a food coma afterward, spend the night digesting in one of their seven wooden cabins.
The Captain Sawyer House
, a circa 1849 farmhouse bed-and-breakfast located near Moosehead Lake. Spend the afternoon skiing on
Big Squaw Mountain
, with 33 trails and a current snow base of 12-22". 
You know what they say...what happens on your snowmobile, stays on your snowmobile.