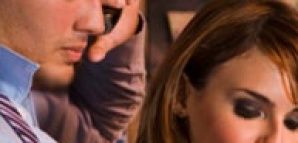 Sometimes you need a change of pace. Not just a Pacifico-instead-of-Corona change of pace. A get-into-something- weird-on-a-Tuesday-night change of pace.

Might we suggest Porn Star Karaoke?

If you haven't already left, let us explain. Sardo's Restaurant in Burbank has managed to put two favorites together to create a whole that is greater than the sum of its parts. While Sardo's does karaoke every night, Tuesday is when the "members of the industry" come out to play.

The room has an old school steak house feel with a menu to match. But let's be honest, you're not going for the creamed spinach.

Grab a seat around the outside of the bar (the tables at the center are reserved for the ladies) and settle in for a low-key yet highly entertaining evening—picture five fake blondes from the cast of "Pulp Friction" fighting over the chance to sing "Almost Paradise." Stick around late enough for free DVD giveaways and the occasional Ron Jeremy sighting.

And while PSK is more of a spectator sport, if you decide to get up there and belt one out, let us recommend a few songs from the 39,000-selection songbook: "Hit Me With Your Best Shot," "Summer of '69" or "Like a Rock" should win you some fans.