2021 was a crazy year.
For a lot of reasons, not least of which is because that's when Eminem opened a Detroit restaurant called Mom's Spaghetti.
It was a savvy bit of marketing, playing off his 2002 hit song "Lose Yourself," in which some pre-performance nerves lead to spaghetti winding up on his sweater.
Now he's doubled down with... Mom's Spaghetti, a new jarred pasta sauce that's available online, so you can get a taste of the restaurant even if you're nowhere near Detroit.
The sauce's ingredients are pretty classic. It's just tomatoes, tomato paste, filtered water, onions, sugar, garlic, carrots, non-GMO canola oil, spices, sea salt and red wine vinegar. The brand is very clear about its intentions not to be a cheffy, high-end sauce but rather something that you can reliably throw with some leftover noodles to whip together a quick meal.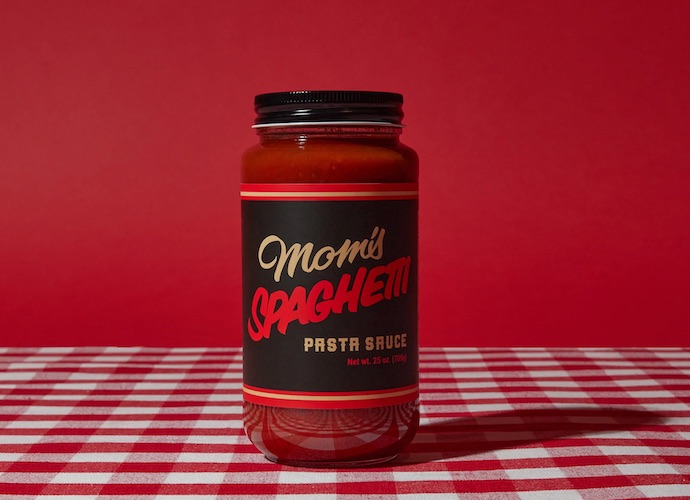 Per the website:
"The thing about Mom's Spaghetti is that it was born with a clear mission: taste like a leftover sauce the first time around. Those second day sauces bring something else to the table… something seasoned and experienced. They've got no time to mess around. This isn't a sauce that tastes like what your neighbor's Italian grandma would spend all day simmering. No. This is a clean take on a classic jar sauce, crafted in the straightest manner… honest… legit… not saddled with any nonsense."
It's hard to see how making it taste like what your neighbor's Italian grandma spent all day simmering is a bad thing. But noted. If you want to cook it just like they do in the Detroit restaurant, they suggest adding powdered parmesan and serving with some Texas toast with garlic butter. You don't even need to make fresh pasta. Just pull some pre-cooked spaghetti from the fridge, and reheat it in a pan with the sauce.
Mom's Spaghetti sauce is, unsurprisingly, selling fast. So if this first batch is sold out when you hit the site, check back later or sign up for updates, and you'll get alerted when it returns.
Sauce emails are the best emails.