The year: 2002.
The movie and hit song: 8 Mile and Lose Yourself, respectively.
The lyrics: "His palms are sweaty, knees weak, arms are heavy. There's vomit on his sweater already, mom's spaghetti."
Now, just 19 short years later, Eminem has turned that line—which told the tale of overcoming pre-rap battle nerves—into a very meta restaurant called Mom's Spaghetti. It just opened in downtown Detroit.
Mom's Spaghetti occupies a small bodega space within another restaurant, Union Assembly, which is part of the popular Union Joints Restaurant Group. There's a walk-up window in the alley, where you can place your order, and a small dining room with a handful of tables.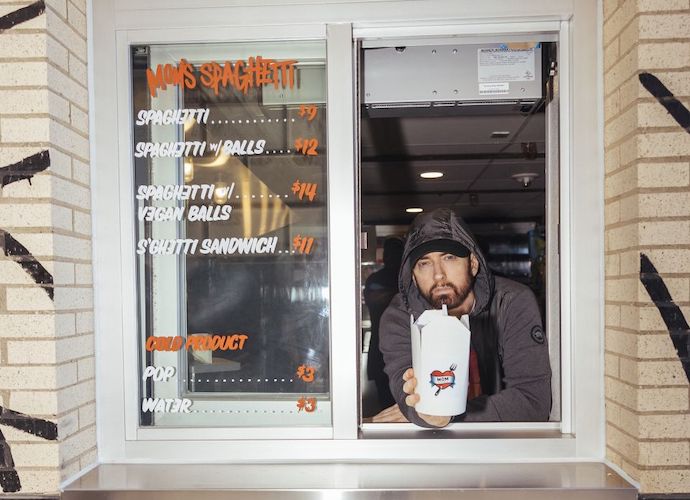 The simple menu features spaghetti—plain, with meatballs or vegan balls—and a 'sghetti sandwich. According to Curt Catallo, co-owner of Union Joints, they aimed to create a scratch sauce that tastes like it's straight from the jar, and by wok-firing the noodles they're able to give them that leftover pasta snap.
The idea began as a pop-up in 2017 and has since made several appearances at Eminem's festival shows and, more recently, as a way to feed frontline workers. But this is the first time it's operated with a permanent location where Eminem/pasta fans can get their regular fix.
Joining the restaurant is The Trailer, a retail space located upstairs that features Eminem-related merchandise and memorabilia, including some dead stock and rare items.
Unless you're in or around Detroit, visiting the restaurant may not be in the cards. But even if you never taste that spaghetti, you can still enjoy this bonkers commercial promoting the restaurant.