Despite what the calendar says, and regardless of the sunshine and temperature, people will tell you that summer begins on the solstice.
But we don't really care about those technicalities.
Because we measure summer by the first sizzling burger on the grill.
And considering you're faced with a handful of upcoming occasions that require burgers, it's smart to be prepared. With all the necessary ingredients, but also with a can't-miss recipe and pro tips from Rodney Scott.
He's the James Beard award-winning pitmaster and founder of Rodney Scott's Whole Hog BBQ in Charleston, South Carolina, and he's an expert at all things smoked and grilled. So, when he talks about burgers, it's best to sit up and listen.
"One of the major keys to grilling a perfect burger is maintaining the temperature of your grill," says Scott, adding that the type of meat also factors into the temperature. He likes to use ground chuck when grilling burgers, because it cooks quicker than other meats, so he typically keeps his grill between 400 and 450 degrees. "Utilize the vents on your grill and keep them open to allow more airflow, and achieve that temperature before you put your meat on the grill."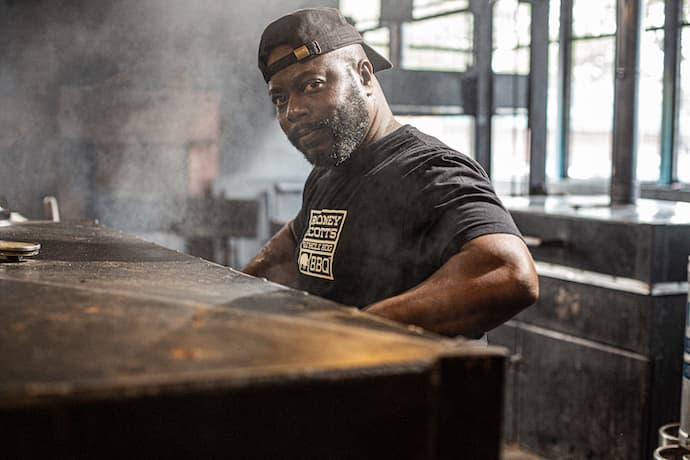 Before throwing those patties on the grill, make sure they're properly seasoned. "You can really take the flavor of your burger to another level if you use a good flavorful spice rub and blend it into your patty meat," says Scott. He likes using the Porcini Garlic Herb Pepper Rub from his seasoning line at SpiceHouse. "It's a great premium blend of cracked pepper, garlic, porcini mushroom, crushed juniper, and our special mix of herbs that really elevates any cut of beef you put it on."
Now, let's make some burgers.
Rodney Scott's BBQ Bacon Burgers
Ingredients:
For the sautéed onions:
1/4 cup canola oil
1 large yellow onion, cut into ¼-inch-thick slice
1 teaspoon Rib Rub
For the burgers and peppers:
2 pounds ground chuck
Canola oil, for the grill
4 jalapeño peppers
4 teaspoons Rib Rub
1 cup shredded cheddar cheese (about 4 ounces)
4 slices white American cheese
4 Martin's potato rolls (or other soft sandwich buns)
1/2 cup 1,000 Island Dressing
4 slices thick-cut bacon, fried crisp and cut into 2-inch pieces
1/4 cup The Other Sauce
Instructions:
1. Fire up your grill. Heat it between 225°F to 250°F.
2. Make the burgers. Divide the ground chuck into 8 equal portions (4 ounces each) and form each into a 1-inch-thick patty.
3. Use grilling tongs to lightly brush the grill grate with a canola oil-soaked cloth. Place the jalapeños on the grill until evenly charred and black, turning them every 2 minutes for 10 to 12 minutes. While the peppers are still hot from the grill, place them in a bag and close it, or place them in a bowl and cover with plastic wrap. Allow the peppers to steam for about 5 minutes. Take the peppers out of the bag and use a spoon or gloved fingers to remove the skin. Discard the skin, stems and seeds (and take care not to touch your face or eyes).
4. Crank the heat on the grill up to between 400°F and 450°F by opening the vents three-fourths of the way for a few minutes. Once the temperature has risen, close the vents slightly to maintain temperature and avoid flare-ups.
5. Season both sides of the patties with the rib rub, place them on the grill and close the top. Cook until each side has developed a slight brown crust, and some dark grill marks, about 3 to 4 minutes per side. Put cheddar cheese on 4 of the patties and white American cheese on the remaining 4 patties.
6. Split and toast the potato rolls on the grill, flat side down, for 30 to 45 seconds, depending on your preference of doneness. Spread the 1,000 Island dressing on both the top and bottom buns. Stack a cheddar-topped burger on top of an American cheese-topped burger on each bun. Top with the sautéed onions, bacon and The Other Sauce. Place the top bun on top and serve with the grilled jalapeños on the side.