When it comes to grilling and smoking meats at home, it helps to have the pedigree and talent of Rodney Scott, the famed South Carolina chef behind Rodney Scott's Whole Hog BBQ.
But, barring that unlikely scenario, you can just employ his favorite spice rubs and hope for the best.
Scott has teamed up with The Spice House, that long-time purveyor of fine spices, herbs and other cooking essentials for pro chefs and home cooks alike. The result is the just-launched Spice House x Rodney Scott collection, wherein you can improve your own barbecuing efforts with some damn good seasonings.
"These new signature rubs are pitmaster-approved blends of some of my favorite herbs and spices that go great on everything from poultry to veggies," says Scott, the 2018 James Beard award winner for Best Chef: Southeast.
So, use them on poultry and veggies. But you can also enlist these rubs for beef, pork and whatever else hits your grill this summer. Start by determining whether your dinner would benefit from smoky hickory, citrus notes, or spicy chiles, and apply as needed.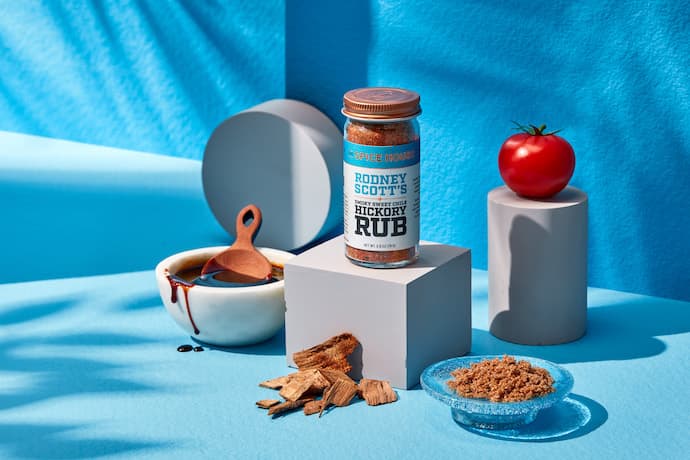 The collection includes:
Smoky Sweet Chile Hickory Rub
This is the line's most classic barbecue application. It features a subtle smoke flavor and a brown sugar paprika base. It's a must-have for any gas griller, and the blend pairs perfectly with beef and pork products. A dash of Worcestershire will add umami and more depth of flavor.
Green Chile Lime Citrus Rub
Expect a big citrus bite and a hint of chile. This mellow blend is not too strong, so it's well-suited for families or anyone grilling chicken or seafood. Expect a little garlic flavor paired with lime, green mango, ancho powder and green Sichuan.
Carolina Fire Chile Rub
This rub combines umami with a bit of heat. The perfect pairing for chicken wings, it blends tomato powder, mushroom powder, Worcestershire, and Carolina reaper peppers, bringing a slow and savory heat to grilled foods.
Garlic Butter Pepper Herb Rub
Savory and juicy, this herb rub is topped off with garlic, herbs and mustard, making it ideal for chicken, fish and grilled vegetables.