David Chang's Momofuku restaurants are some of the world's finest purveyors of noodles.
Typically you need to be in places like NYC or LA or Vegas to enjoy those noodle dishes, but now, the noodles are coming to you.
Because Momofuku has launched a new line of dried noodles that channel those cheap, ubiquitous, beloved packs of ramen, but are better-made, better tasting and just generally... better.
Momofuku's noods come in three flavors: Soy & Scallion, Spicy Soy and Tingly Chili Wavy, which is one of the better-named noodle flavors in recent memory. There is also a 15-strong combo box that includes five packs of each flavor and weighs in at more than three pounds.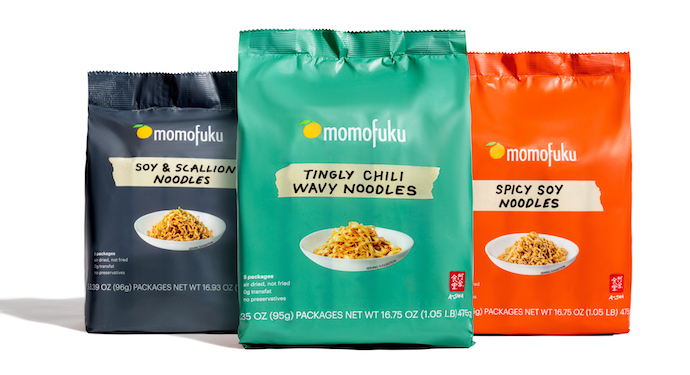 Here's what you can look forward to.
Soy & Scallion Noodles: Salty, sweet and savory, these go nicely with sautéed bok choy and a poached egg.
Spicy Soy Noodles: The spicy and savory flavors are perfect for adding pickled vegetables and a spoonful of Chili Crunch.
Tingly Chili Wavy Noodles: Spicy and, yes, tingly, these noodles are good companions to sautéed mushrooms and a fried egg.
All of the noodles are simply made with wheat, salt and water. They are air dried (never fried or frozen), contain zero preservatives or artificial flavoring, and offer 10 grams of plant-based protein per serving. They're lightning fast to make, cooking in just four minutes, and each pack comes with a flavorful sauce.
On their own, the noodles are a quick option when you're hungry and short on time. If you want to take things up a notch, top your bowl with vegetables, eggs or other additions, and you've got the makings of a heartier meal.
So, these aren't the same ramen packs you slurped down in college.
No offense to the four best years of your life.