Yesterday would've been the great, inimitable David Bowie's 72nd birthday. Though he's no longer with us, he lives on in our hearts, in the songs we listen to again and again, in the DNA of contemporary pop music, in the blurry reminiscence of that one time you watched Labyrinth really stoned.
And now, strangely enough, he lives on in your smartphone, alongside the mellifluous voice of Academy Award-winning actor (and Bowie's friend) Gary Oldman.
Introducing: David Bowie Is...Virtual. It's the augmented reality app version of the massively successful David Bowie Is... exhibit, which opened at the V&A in 2013 and eventually stopped touring once it hit the Brooklyn Museum last year. It's the first of its kind of this magnitude, and it's available to download now on your Android or iPhone.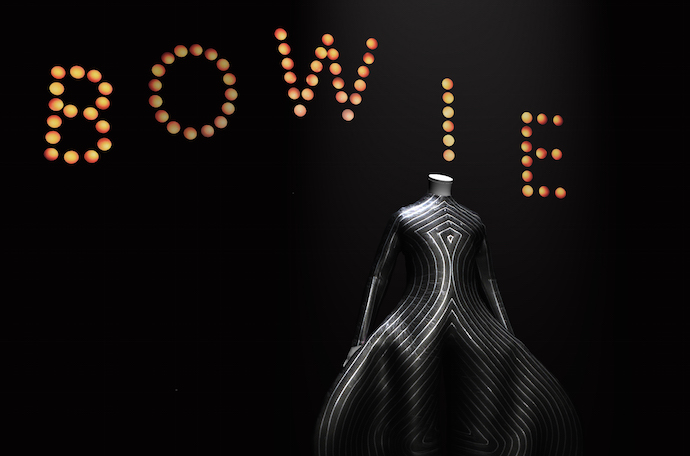 The original exhibition spanned Bowie's entire career, offering a tactile glimpse not only into his artistic evolution but a kind of cultural history of the late 20th century, as seen through the lens of this once-in-a-generation artist's life and work. It featured more than 60 of Bowie's outré stage costumes, from the Ziggy Stardust bodysuits, to the Union Jack coat he designed with fashion prodigy Alexander McQueen. Personal sketches, notes, set-lists, handwritten lyrics, storyboards, diary entrees, a game-used coke spoon—all of this creative detritus was also on offer, giving viewers an uncanny sense of what it was like to live inside Bowie's brain. Then, of course, there was the music, trailing you from room to room.
As immersive as the exhibit itself was, the new app is something else. When you open it up, you'll want to be sitting at a desk, with your headphones on—to hear the music, certainly, but also because its humble narrator is Mr. Gary Oldman. You should be willing to devote at least a half hour of your time to getting lost in the world of Bowie. And get lost you will: when the AR kicks in, the various rooms of the physical exhibit will appear, through your phone, on your desk in 360-degree detail, albeit with a bit more technological pomp.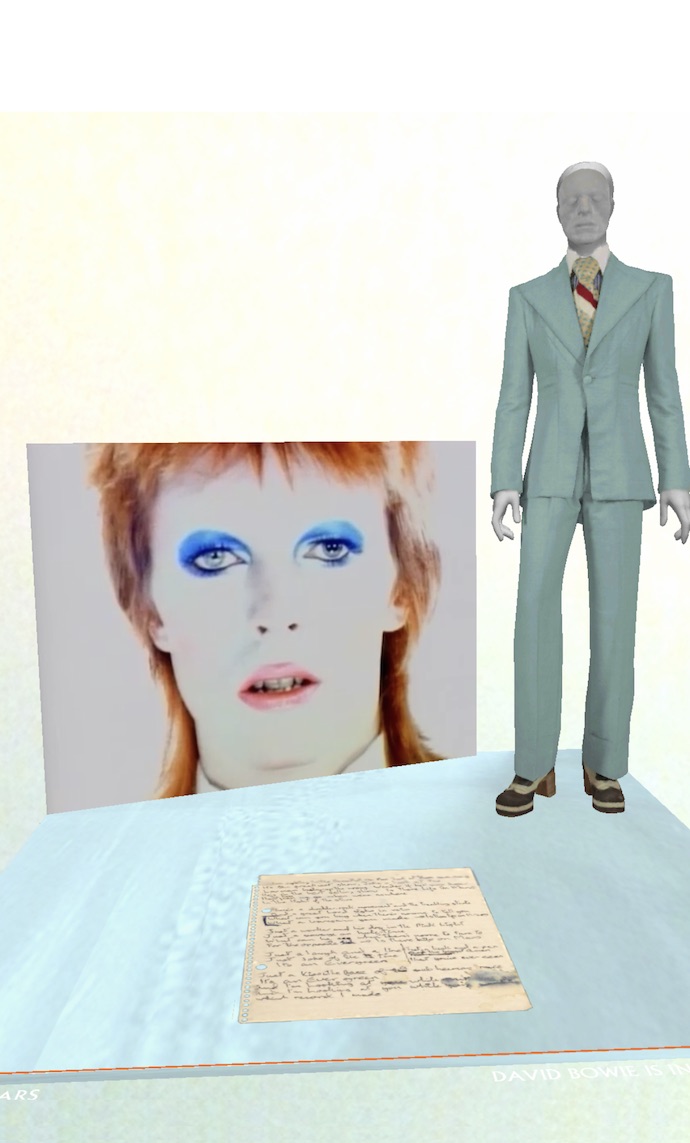 If you select the "Space Oddity" chapter, you'll be greeted by a globular vision of Bowie performing "Major Tom" in outer space, as spaceships from the Krazy Kat Archivecirca float by. In "Ziggy Stardust," you'll have access to 3D renderings of his costumes, plus staging sketches and lyrics, all of which you can touch to expand and see more clearly; in "Rebel Rebel," a BBC news program about Bowie plays while we watch him do his make up in a mirror. The Alexander McQueen room is rather eerie: a mannequin wearing the famous Union Jack coat stands in a field, looking blankly out onto a crystalline blue sky.
In fact, the entire experience of the app is rather eerie, even pleasantly discomfiting. It feels intrusively personal, as your physical world fades away and Bowie's virtual one creeps in. Perhaps this is a fitting homage to Bowie's incredible talent—his uncanny ability to build a world and invite you inside.
Speaking of which: the AR app is only the beginning. The same studio responsible for designing this, Planeta, is also working on a VR format.
Figures...