Tiger Woods triumphantly won the Tour Championship on Sunday, marking his first victory in over five years.
This weekend, Team USA—including Woods—will try to hold onto the Ryder Cup at Le Golf National, in France.
All of which is to say: le golf is very much on the mind.
And because your own golf season isn't over until you say it's over—or, well, until the weather says it's over—we thought it high time to share with you FJ1857, FootJoy's brand new line of exceptionally luxurious golf shoes and apparel. It's online now.
Over the past few years, you might have noticed a concerted effort on the part of both players and brands to update golf's sophisticated, if occasionally staid style. Some of have fared better than others. We were big fans of Jason Day's Nike high-tops; we were less big fans of Phil Mickelson's button-down shirts. Much less big fans.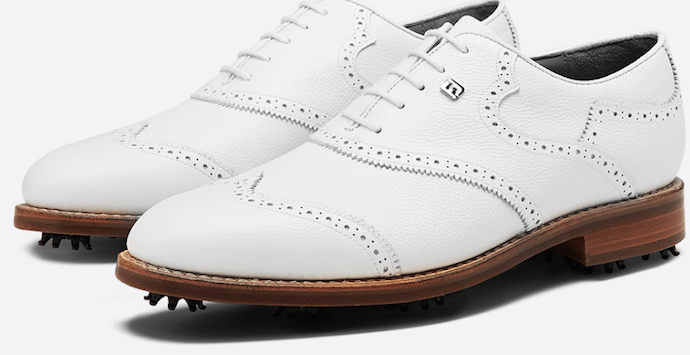 Thankfully, FootJoy's latest collection manages to respect to the storied tradition of the game, while also taking things to a whole new level. So named for the year in which FootJoy's performance footwear was created, the shoes incorporate hand-selected calfskin leathers and a classic goodyear welt construction. Yes, they may cost more, but pairs like the Shield Tip are also unprecedentedly dapper—they'll look just as good on the 18th hole as the 19th.
In addition to the shoes, you'll also be privy to some pretty damn nice clothes, perfect for a late-season round. We're especially fans of the cashmere raglan crewneck sweater and the quilted stretch woven jacket, both of which integrate a practical, on-course elegance into a more modern, off-course look. That feels important.

And should you require a new glove after a summer's worth of play, they've got one of those, too. It's a tanned leather number from Pittards (of England), finished with a handsome brown leather tab.
You might want to require a new glove regardless.