If you tuned into one of the biggest golf tournaments of the year this afternoon, the Players Championship, you might've been alarmed to see five-time major champion Phil Mickelson navigating the course in a relatively normal-looking long-sleeve button-down shirt.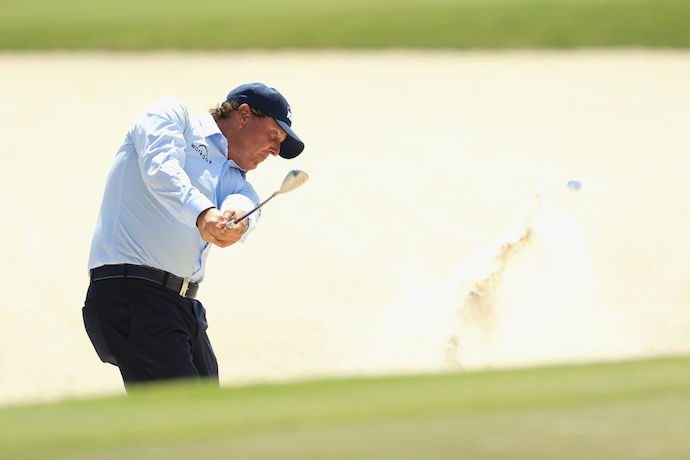 This is a travesty.
Not only is the shirt ostentatious, given that it's not your standard golf polo or sweater, it's ostentatious for its utter unostentatiousness: this isn't some inordinately stylish or even particularly well-fitting button-down, which might've—might've—merited a sartorial risk on the golf course. This is simply an unremarkable button-down*, of the sort your run-of-the-mill finance bro (or bro-dad, to the extent those exist) might wear to work.
From what I can gather, Mickelson first tried out this look during a practice round at the Masters last month. But just today the clothier Mizzen + Main announced a partnership with the golfer, implying that it's likely we'll be seeing more of these long-sleeve button-downs in the future.
Mizzen + Main has a history of teaming up with star athletes (just last year, I interviewed NFL superstar J.J. Watt about his collaboration with the brand). And it makes sense: as champions of performance fabrics, comfort and versatility, the brand feels like a natural partner for certain cookie-cutter sports stars. All told, it's not like Mizzen + Main make bad shirts. They make nice shirts. But they have no place on the torso of a professional golfer during a professional golf tournament. No place!
Golf is a gentleman's game, in both the honorable and prohibitively anachronistic sense of the word. You keep your own score; you call your own penalties. It would be one thing if Mickelson's button-down was somehow harking back to the days of Bobby Jones, when slimming white dress shirts and a short tie (oft with a sweater) was the norm. That would've been cool. But Phil's looks seems like merely the result of a corporate sponsorship, and while all pro golfers' clothing is bound up in corporate sponsorships, this one feels particularly thoughtless, even ahistorical.
What's exciting about the rigidly traditional set of rules governing golf course style is that breaking them, even in small ways, makes a big impact. Take Rickie Fowler's loud colors or modern, flat-brimmed hats. Or Rory McIlroy's blade collar shirts. Or even Jason Day's Nike high-top shoes. Those moves felt modern, yet executed with the subtlety any golf-related sartorial risk requires.
Mickelson's long-sleeve button-down, on the other hand, feels both outdated and out-of-place. It's neither a reference to the past nor a glimpse at the future. It just kind of is.
*Technically, because of the collar, it's a button-up. But for the sake of keeping this conversational, let's just call it a "button-down."