Australian Jason Day caused quite the stir in the golf world yesterday, when he came out for the first round of the Open Championship at Royal Birkdale wearing a pair of high-top Nike golf cleats.
Above is a close-up of the offending shoes. Below is how they look with the rest of his outfit.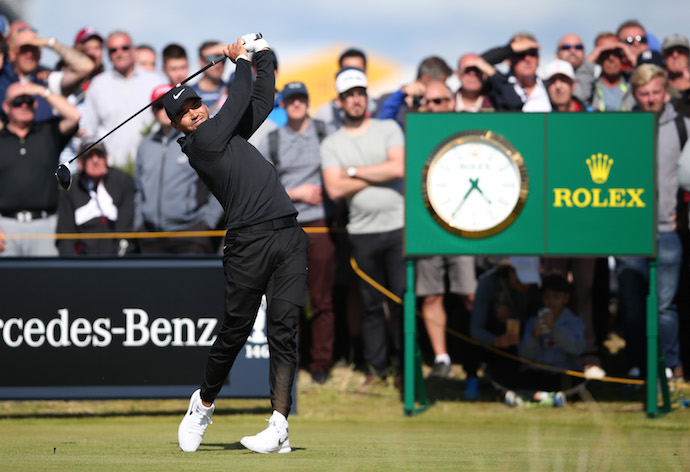 Pretty damn cool, right?
That's what I thought (
others thought differently
). Golf style can seem so monotonous these days—too clean, too concerned with market-ready terms like "high-performance"—that Day's kicks came as a welcome outlier.  Of course, golf's most beloved fashion risk-taker, Rickie Fowler, has also worn high-tops, but his are
 all-white Pumas
. They aren't Jordans. Evidently, that makes all the difference for some hoity-toity golf fans. 
But in a sport where modesty is at a premium, it was refreshing to see Day exhibit some sartorial braggadocio. Golf, after all, is a lonely game. There are no teammates to rely on. Your chances of winning any tournament are slim-to-none. Most of the time, no matter how well you play, someone's going to play better, and you're going to lose. Really, you need as big an ego—as much confidence, as much swagger—as you can muster. If you don't believe you're the best on any given day, it's not worth showing up.
We can't know for sure how Jason Day felt when he put on those shoes. But I'm willing to bet he was aware of the statement he was making, and that he stalked the grounds with a little extra pep in his step. Maybe he even had a
Like Mike-
esque moment (although, as the 6
th
best player in the world, there's no reason he'd want to play golf like Michael Jordan, who is at best a 2 handicap).
It bears mentioning, too, that yesterday he finished with a more-than-respectable 1-under 69. In today's second round, wearing standard black golf shoes, he shot a 76.
Just sayin'...