"If you can't show, what's the point?" C.C. (Gary Carr) asks another pimp, while getting his shoes shined on Sunday's season two opener of The Deuce. He's wearing a purple velvet suit and wielding a bejeweled walking stick. His exaggerated gait seems propelled by the force of his swagger. When he walks, you half-expect him to break into a dance; when he talks, you half-expect him to rhyme. It might be said that the quintessence of C.C. is an innate performance of which he himself is the biggest fan, as if he's constantly aspiring to be the person he projects to everyone else.
"He does dream of having a house in a different city and investing himself in a different culture—something that isn't this pimp life," Carr tells me, of his character.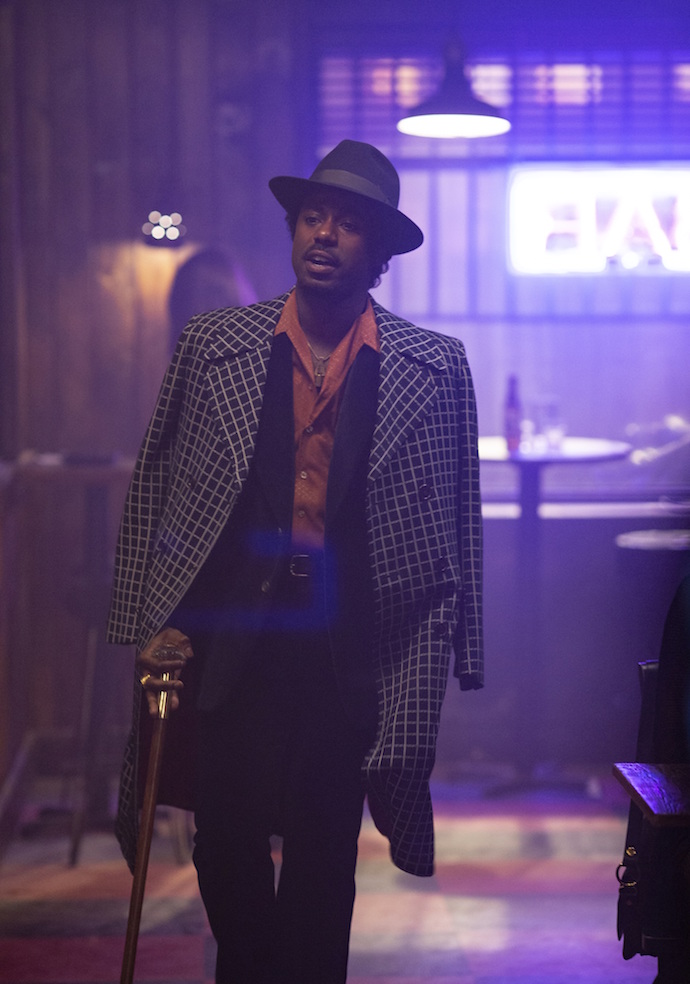 This dream of C.C.'s, so alive in season one, is fading in season two. Taking place in 1977, five years after the finale, the tenuous ecosystem of David Simon and George Pelecanos's series has changed: Vince (James Franco) has traded his gritty watering hole for a late-night disco club; his girlfriend, Abby (Margarita Levieva), is getting into punk and feminist causes; Candy (Maggie Gyllenhaal) has made the transition from prostitute to porn director, and Lori (Emily Meade) and Darlene (Dominique Fishback) the transition to porn actresses. Meanwhile, the Koch administration is attempting to beautify Times Square, the "parlors" are facing an existential crisis and Frankie (also James Franco) is still gambling with his twin brother's money.
Most affected by these changes, however, are the pimps, like Larry (Gbenge Akinnagbe) and C.C., who are finding themselves increasingly adrift in the porn world. C.C.'s mercurial machismo may've worked on the streets. But on set, they're a liability. And the power dynamic is shifting: it's become clear that C.C. needs Lori more than Lori needs C.C.
For Carr, playing a character in this state of flux presented an interesting challenge. "I think he's just trying his best to survive," Carr says. "Even from episode one [of season two], the pimp game is pretty dead."
The relationship he has to his girls, Carr explains, is not completely dissimilar to that of a stern tutor or coach; he rules with a Machiavellian combination of physical violence and genuine affection. Yet, devoid of any practical utility, C.C. appears to be surviving on the sole basis of his persona, propped up by garish suits, outlandish hats and silky gravitas.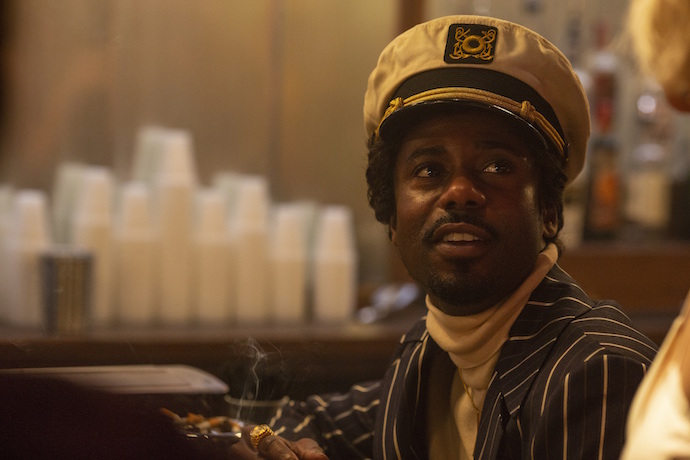 "The aesthetic of it—how you look, how you present—that's very important," Carr explains, citing notorious Chicago pimp Iceberg Slim as an inspiration for C.C. "I like to think he has a lot of swag. Physically, as well, you try to embody that with the way he behaves." Indeed, Carr, who grew up in London, trained for two years in contemporary dance, and has a background in musical theater; it's not hard to see elements of both those art forms in his portrayal of C.C.
Carr admits that it's fun to play a character who's so confident—or at least presents himself as such. "I'm not like that," he says sheepishly.
The Deuce is a show about porn—the fantasies we sell to one another, whether they be sexual or, in the case of Mayor Koch, municipal, but also the fantasies we sell to ourselves, about ourselves, who we are and who we could be. As the season goes on, it will be compelling to watch C.C. struggle to keep the platonic ideal of himself aligned with the reality of his coming obsolescence.