Dreaming of a place to dream midday? That used to be the stuff of dreams (okay, I'll stop) but thanks to Casper, the direct-to-consumer mattress company, taking a noon nap can now be a reality (and also not an HR violation.)
Starting July 11th, Casper is opening a Dreamery next to it's NoHo store, where you can take 45 minute naps. Along with the shut eye, you get a toothbrushing set from Hello, face wash from Sunday Riley and calming audio tracks from Headspace. Sheets and linens are changed with each use and socks, Casper pillows and eye masks are provided for each slumberer. The space is decorated with twinkling blue lights and immediately calms you as you enter. Even if you're not a napper, it looks like the perfect place to recharge or simply take a break from the high vibrations of the city. It's like a cool dark subway without everything that makes the subway a terrible place to be.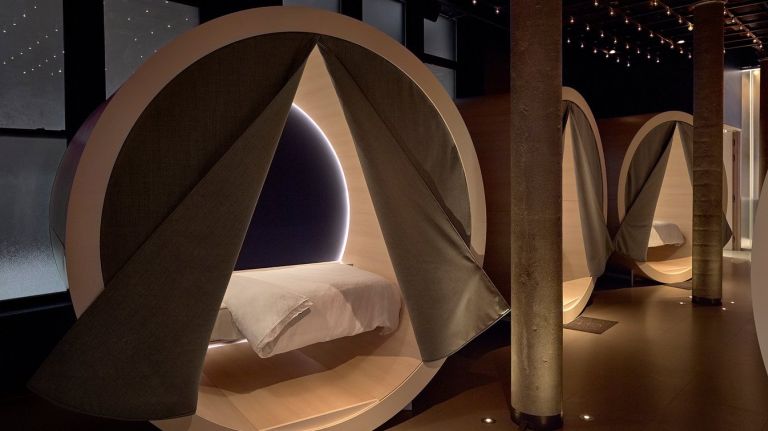 Your dreams come at a price, however. $25 to be exact, all of which goes to maintaining the space. "We don't really see this as retail," Eleanor Morgan, Casper's Senior Vice President of Experience, told Racked. "A big part of this is building a community of people that value sleep and want to share that with us." In a city where trains are lined with advertisements joking about forgetting to sleep and the gig economy is lauded to an unhealthy degree, a company that just wants you to relax seems like a welcome respite.
To reserve a spot at the Dreamery, which sounds a little like Stefon's latest club craze, you can visit their website or book through MindBody or ClassPass. And if the need to nap strikes you without warning, as it often does, they'll accept walk-ins as well.
Sleep tight.