We can wax poetic about the virtues of the American road trip all damn day. Hell, we already have. But sometimes word fail us. Sometimes, we need pictures. Moving pictures. With actors. And super nice cars.
We're talking, of course, about movies—particularly, movies with the most hedonistic road trips ever captured on film (that you can also stream digitally on your laptop or TV).
Consider them inspiration for your impending summertime journey. The key word there being: inspiration. As in, don't actually do most of this shit...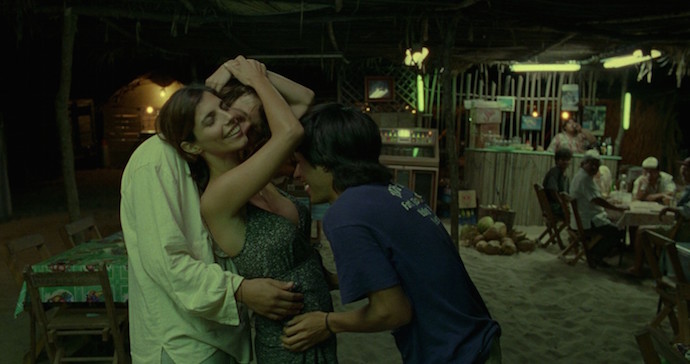 The Movie: Acclaimed director Alfonso Cuarón's classic coming-of-age movie, Y Tu Mamá Tambien.
The Road Trip: A somewhat quixotic quest to find a secluded beach in rural Mexico, called "Heaven's Mouth."
The Characters: Two sexed-up boys on the brink of adulthood (one of whom is played by the now-famous, Gael García Bernal), and a seductive older woman who has just discovered her boyfriend has been cheating on her.
The Extras: Motel room sex; a devil's threesome; copious amounts of booze; sensual dancing; sun-swathed coastal roads; oh yeah, a beach.
Where to Stream: Netflix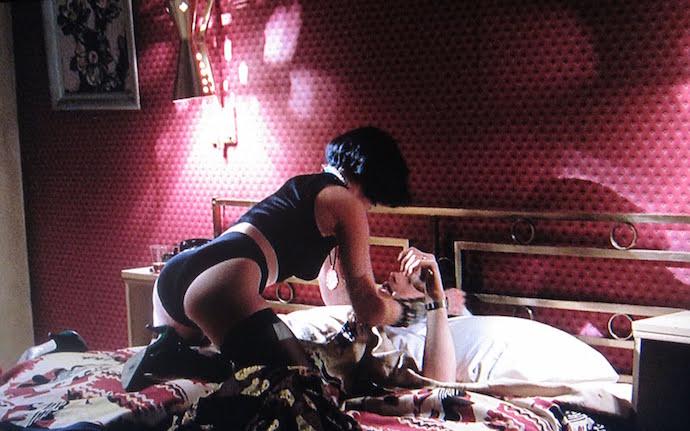 The Movie: Jonathan Demme's Something Wild.
The Road Trip: An impromptu physical (and sexual, and emotional) journey from New York City to Tallahassee.
The Characters: The spontaneous, minx-like Lulu (Melanie Griffiths) spots the square (and married) Charlie (Jeff Daniels) leaving a restaurant without paying, and talks him into joining her on a booze-soaked joy ride that turns into a full-fledged love affair.
The Extras: Somewhat sadomasochistic afternoon sex in a motel room; an awkward high school reunion; small crimes; escaping the grips of Ray Liotta.
Where to Stream: Vudu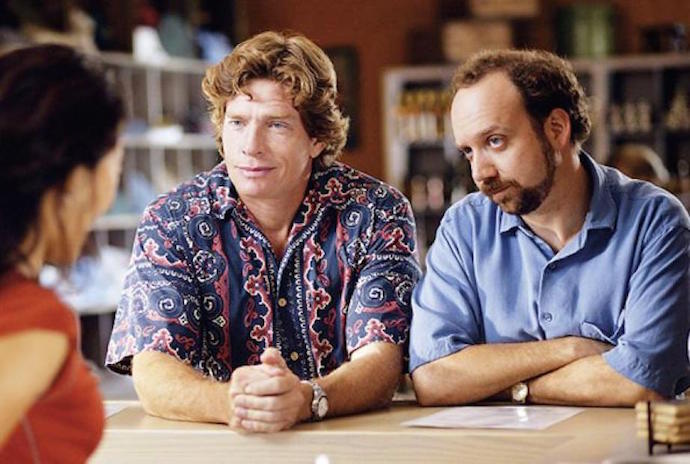 The Movie: Alexander Payne's Sideways.
The Road Trip: A week-long misadventure through Santa Barbara wine country.
The Characters: A depressive writer, Miles (Paul Giamatti), and his washed-up actor best friend, Jack (Thomas Haden Church), who wants to enjoy his last days of relative freedom before getting married, perhaps to his own detriment (definitely to his own detriment).
The Extras: Lots of wine; lots of wine with Sandra Oh; breaking and entering a house where a couple are fornicating; a well-deserved punch in the face; a car accident with a tree.
Where to Stream: Amazon Video (or free with HBO Go)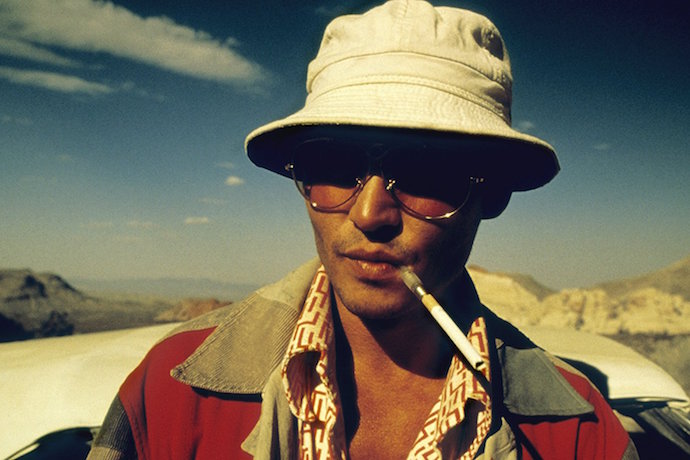 The Movie: Fear and Loathing in Las Vegas, based on the classic Hunter S. Thompson novel.
The Road Trip: "A savage journey to the heart of the American dream." Aka, a ride to Vegas in a red convertible with a suitcase full of drugs.
The Characters: The insane, drug-addled Thompson stand-in, journalist Raoul Duke (Johnny Depp), and his equally nutso attorney (Benicio Del Toro).
The Extras: An hallucinated lizard orgy; exorbitant room service bills; a failed attempt to buy an orangutan; LSD; speed; drugs, drugs, drugs; poor journalistic ethics.
Where to Stream: Amazon Video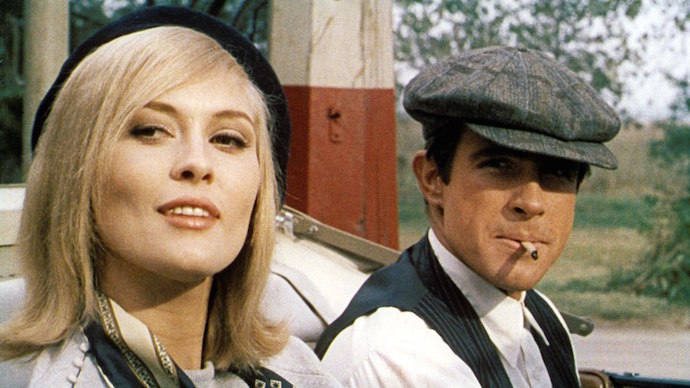 The Movie: Arthur Penn's iconoclastic, likably amoral Bonnie and Clyde.
The Road Trip: Less a road trip, more "driving around robbing banks and stuff."
The Characters: The beautiful Bonnie (Faye Dunaway), the gregarious, if ruthless Clyde (Warren Beatty), an air-headed gas station attendant-cum-getaway driver, C.W. Moss, and, for a time, Clyde's brother, Buck, and his no-fun wife, Blanche.
The Extras: Smiley bank robberies; hootin'-hollerin' getaways; outrunning and outsmarting the law; hiding out in motels; not-having sex; surprisingly good poetry; the shockingly effective manipulation of the news media; one very deadly trap.
Where to Stream: Amazon Video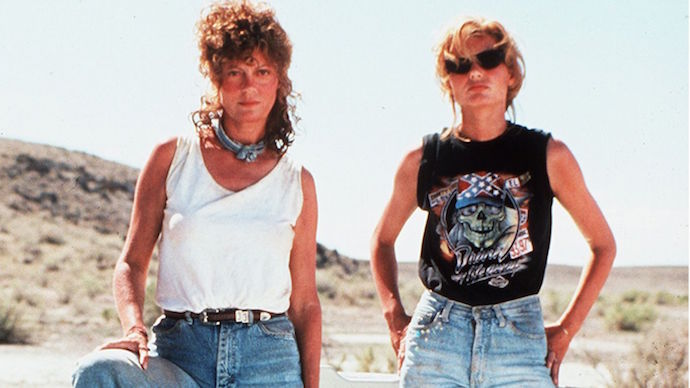 The Movie: The feminist classic, Thelma and Louise.
The Road Trip: An aborted drive from Oklahoma to Mexico City in a 1966 Ford Thunderbird, with a trip-ending detour off a cliff.
The Characters: A housewife, Thelma (Geena Davis), and her best friend, the acerbic, tough-as-nails Louise (Susan Sarandon). Also, for a time, a comely young grifter, named J.D. (Brad Pitt).
The Extras: A justifiable murder; a not-so-justifiable murder; witty repartee; Brad Pitt-Geena Davis sex; an embarrassed New Mexico State Trooper; an iconic drive into the Grand Canyon; buoyant red hair and sexy mom jeans.
Where to Stream: Amazon Video (free with Starz)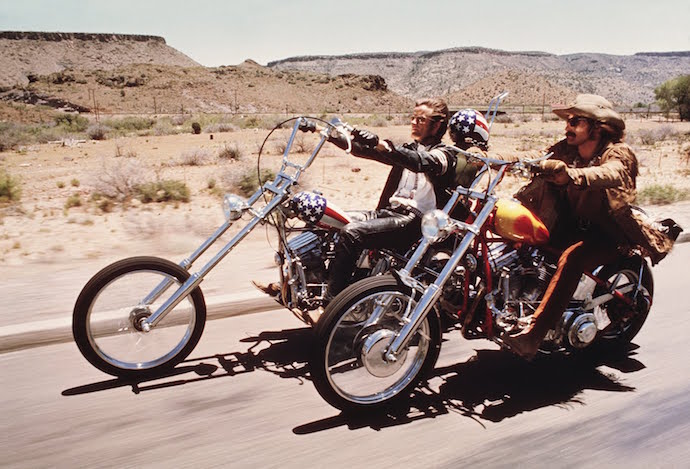 The Movie: The ever-transgressive Easy Rider.
The Road Trip: A motorcycle ride from Los Angeles to New Orleans for Mardi Gras, with a rewarding stop at a hippy commune and a bad trip in a Louisiana cemetery.
The Characters: Freewheeling cocaine smugglers/biking enthusiasts Wyatt (Peter Fonda), Billy (Dennis Hopper) and, before he's beaten to death, George (Jack Nicholson).
The Extras: "Free love"; young Jack Nicholson; a possibly actually insane Dennis Hopper; psychedelic drug usage; bayou prostitutes; Mardi Gras parades.
Where to Stream: Amazon Video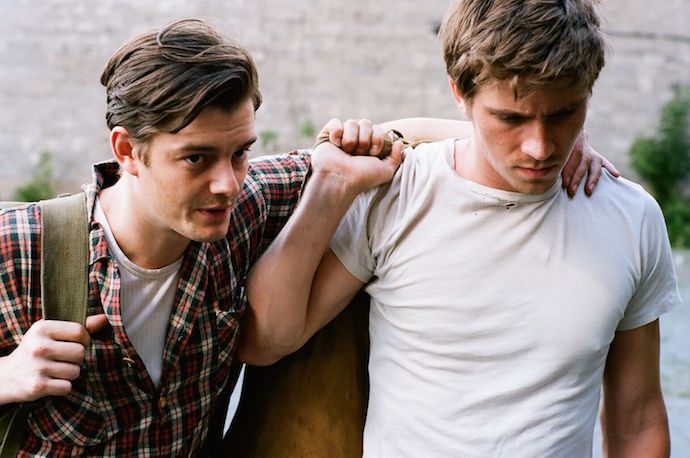 The Movie: The underrated movie version of On the Road, based on Beat writer Jack Kerouac's real-life adventures.
The Road Trip: A romantically meandering, aimless, peripatetic sojourn through post-war America (and Mexico).
The Characters: Sal Paradise, aka Kerouac (Sam Riley), the magnetic, frenetic young poet-thief, Dean Moriarty, aka Neil Cassidy (Garrett Hedlund) and his wife, Marylou (Kristen Stewart).
The Extras: Duke Ellington; spliffs; a tattered copy of Swann's Way; angry ex-lovers; car trouble; gigilo-ing; dirty laundry; limitless sexual tension; a Mexican whorehouse; rambling run-on sentences.
Where to Stream: Hulu