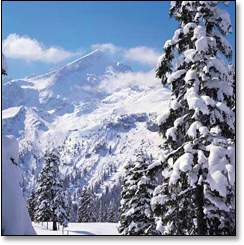 If the snow doesn't come to you, you go to the snow.
And if you've been hankering for killer slopes and schnitzels, it's time to throw on your lederhosen and head to
Garmisch-Partenkirchen
(it rolls right off your tongue after a few pilsners).
Off the beaten path from Munich and tucked at the foot of Zugspitze, the biggest mountain in Germany, this tiny quaint ski village is the top choice amongst Germans and Bavarians for snow sports, but still relatively unknown to most. Home to the Winter Olympics in 1936, Garmisch-Partenkirchen is filled with Bavarian gingerbread house buildings and surrounded by powder-capped peaks. Day skiing is old news here, though—hit the slopes for night skiing in one of the few places in Europe where trails are lit up after dark. Friday nights, we suggest swapping your skis for a sled and hitting up Hackl Schorsch, an illuminated trail where the locals get a little crazy with their toboggans.
In between runs, grab a few steins at local après-ski hotspots Werdenfelser Hof or HofBra st berl—think rosy cheeks and spilling steins—a St. Pauli's girl ad come to life. By day, take advantage of the reasons for the town's "climatotherapeutic" status: its allergen-free air and healing centers. The Dorint Resort offers a package which includes a Thalasso sea-salt bath and massage, perfect for healing your sore muscles.
Spas, skiing, sledding, schnitzel—now we're talking winter.