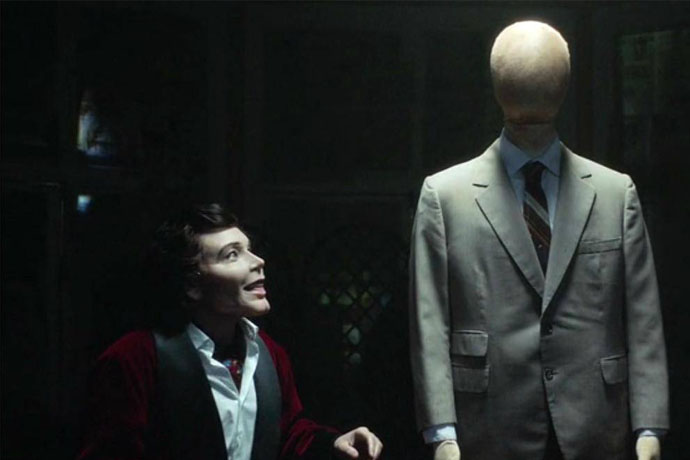 Because you can find recaps elsewhere, and because we long for the watercooler talks of yore, three editors, Geoff Rynex, Najib Benouar and Kady Ruth Ashcraft, will be using this space to have a weekly conversation about FX's Atlanta, Donald Glover's capital-I Important, intriguingly abstruse, not-really-comedy comedy. Obviously, THERE WILL BE SPOILERS. This week's topic is S02E06 Teddy Perkins.
Geoff Rynex
So that was batshit. True story: earlier this week, I had a dream that Donald Glover ended the series with Earn very abruptly being shot and killed by a cop while unarmed. It happens out of nowhere, and nullifies the life—and everything about the show—that led up to it. I didn't think it could get any more disturbing than that in reality, but it might have here. What are your guys' first impressions of "Teddy Perkins"?
Najib Benouar
EEEEEEK!
Kady Ruth Ashcraft
So I love that Darius is the straight man. I was fully expecting him to be up to his usual antics as the far-out dude. But they somehow found someone weirder.
NB
Yes, exactly. When shit is too weird for Darius...
KRA
And it repositions how we look at this character. We get more of a perspective of how his mind works.
GR
I find it difficult to describe Darius in any other way than, he's a beautiful human being. There's something holy about his presence, in a non-denominational kind of way.
KRA
Totally, and I think the spiel he gives at the end about love showcases that. I think he is like the one character in the show totally comfortable in his skin. Al isn't used to his newfound fame, Earn is constantly trying to find a new hustle or purpose. Darius let's himself be Darius.
NB
Speaking of "being comfortable in your own skin..." TEDDY PERKINS???
KRA
Well, exactly. I think they put Darius with someone whose skin is LITERALLY disintegrating.
GR
I didn't stick around for the credits last night and I didn't realize until Najib told me offline it was Donald Glover.
KRA
Oh, it didn't say that.
NB
I'm pretty sure it was Donald Glover.
GR
Did or did not that mask appear to have animatronics?
KRA
Not a real person.
GR
He's Glover's Tony Clifton.
NB
Haha. Yes it does. And, truthfully, I watched most of the entire episode through my fingers, so I didn't make the connection till afterward
GR
I'm not even going to front like I've completely figured out just what the hell I watched, if at all, but it seems to me there's a lot of social commentary to unpack here. And that Glover and the other writers are operating on a level above anyone else right now. Every episode this season I've thought to myself, "there's not anyone else out there right now who can achieve this." I think when it's all said and done we're going to look back on this show as "important," which is obnoxious to say, but I believe it.
NB
Whole 'nother level. Apparently this was the only episode they didn't send out a screener for, too.
KRA
See I think it's more a commentary on how people work. The whole thing about the cycles of abuse was fascinating. Darius, at the end of the ep, when he's tied in the chair and is talking down Teddy he says that love can be more productive than pain. It's the clearest I've ever been able to see Darius and the most I've thought about his backstory. He tells Teddy that, yes, his (Teddy's) father should've apologized for the abuse but that it isn't an excuse to continue it, and I wondered if Darius is someone whose broken the cycle of abuse in his family.
GR
He did explicitly say he struggled with daddy issues himself.
KRA
Yeah! And it puts him into a bigger context for me— not just someone who has these wacky one-liners.
GR
He has a new level of humanity—one we've obviously seen from Earn, Al and Van. I think one of the strongest points of this show is the writers' ability to give us a sense of the fullness of the character with very little exposition.
KRA
This was a small scene but I loved seeing Al and Earn in the car.
GR
YES! U Mad?
KRA
We didn't have that in the other bottle episodes—seeing the other characters hanging out. U MAD was so funny
GR
I hope they start selling that hat. I also hope they don't.
KRA
I also immediately Googled Sammy Sosa hat.
GR
Let's dive into Teddy for a minute; he was a modified Michael Jackson right? Strained through the filter of Salieri. In the Great Fathers Museum scene, Teddy actually verbalizes a comma between "my father" and "Joe Jackson" when listing great fathers, and it sounds like he's referring to Joe as his father. I'm probably reading too much into that, but, by that point, I was glued to this episode like a Dylanologist looking for references and meanings.
KRA
I missed that!
NB
Oh yeah. There's a lot of Michael there. And Salieri is on point. Unless somehow Teddy really is Benny. And the wheel chaired person was the dad. Like, now I'm going way too far into the Michael theory but...Michael's only friend was Ben, a mouse, he wrote a song about.
GR
Oh wow. Nice recall with Ben. Maybe it was Bennie who was Michael Jackson and Teddy was Tito. It might explain the verbalized comma.
KRA
Oh weird, yes. Yeah that was confusing, like, is Benny even real or not?
NB
Yes, it's all just so weird, you could spend forever in a Teddy Perkins rabbit hole. Another thing possibly worth mentioning: Donald has a brother, Stephen (a writer on the show). One is more in the spotlight than the other. Huh, * makes you think emoji *
GR
Oh wow. The writing credit only went to Donald here. No Stephen. Take that however. I'm wary of over-stretching my ability to make comments like this as a basic white guy, but I feel like there was a "society destroys black entertainers" narrative tucked subtly in here. Teddy wasn't just a Michael Jackson type. He was grotesque to the point where this episode could accurately be described as a 41-minute horror film.
NB
Oh definitely. And moreso, the culture of having to be overworked and pained to make it. Overbearing fathers All the fathers named at the Great Fathers Museum were black fathers except...and I quote "the Dad who dropped off Emilio Estevez in the Breakfast Club." Which, goddamn it, they tucked that right in. So good.
GR
One of the few laughs in the episode.
KRA
I picked up on the issues with overbearing parents. Like that's the only way for children to succeed is through pain. And Teddy keeps trying to excuse the abuse as worth it because of the final product. I read a Tweet that noted how the theme of Robbin' Season shows up in this episode of your childhood being robbed from you, which I loved.
GR
This concept album approach to a season is something I want to see a lot more of.
KRA
Another great laugh is Al asking the cashier to remove the extra fries. Wait, can we talk about the ostrich egg?
GR
The ostrich egg, yes. My mind immediately went to Chappelle's Show's Cribs sketch where Chappelle's ficitious rapper character makes a dinosaur omelet.
KRA
That just set the entire tone. Like Darius you are in danger.
NB
Hardest thing to watch in the entire episode?
KRA
100%
GR
Yeah it wasn't just used as a gag. He really took his time and drew out the gory reality of…eating a fucking soft boiled ostrich egg.
KRA
Also the tape recorder! As a reminder. That was insane.
NB
Damn it that was hilarious too though. But weird AF.
KRA
What was great though is Darius is the only person who would stay in that house. Anyone else would have bailed, but he has his two regret rule.
NB
I feel like that day ultimately is going to wind up in the regrets column.
GR
I don't know. Darius strikes me as a person who collects wisdom from every experience he has. Part Tommy Chong, part Buddha. Can we speculate as to how the idea for this episode came about? This was a real "height of his powers" sort of moment for Glover. My very shallow speculation is that this grew from a casual conversation about making a spiritual prequel to Get Out. It's not correct, but it amuses me.
KRA
The moment I realized we would have a Darius episode after the Al one was very exciting.
NB
If I had the answer to that, I'd be richer than Teddy Perkins. I was also excited for the Darius ep, but not expecting that. Really not sure what to expect at all. But now, looking back, it had to be that.
KRA
Only following Darius could get us to the place this ep got us. No one else is on an online forum, renting a U-Haul, hanging in that house after the double handshake
GR
For a colored-key piano.
KRA
Which wasn't even....that cool, dare I say?
GR
I think Darius just likes weirdos. and that piano is a weirdo.
KRA
Also I have to give a shout out to Hiro Murai. That shot of Darius in the elevator from above was stunning.
GR
It was. From a cinematic perspective, this bottle episode felt more like an entirely different project than Earn's and Al's, which were different, but more of a piece with the rest of the series. It also opened up the show even more going forward. Last year's Al-centric episode, "B.A.N.,"and the also fever-dream-like "Nobody beats the Biebs," showed that the show doesn't care about boundaries. In this one it completely transcends genre. I halfway thought Darius was going to die in this episode and then just be inexplicably alive next week. I think anything goes on this show from here on out. It's eccentric by nature, but I'll never be surprised to see something downright strange from it again.
NB
Hiro Murai just has this palpable, weighty vibe going in his eps. He did "Aligator Man" too, I think.
GR
I think I'm a little upset that, for the rest of my life, I'll associate Music of My Mind with two frightening recluses ending the episode with a shotgun murder-suicide. Which, by the way, we haven't even talked about. I'm really not quite sure what that was getting at. It was just the brutal culmination of a couple of tortured lives.
NB
It's odd, I really didn't enjoy watching this episode, and didn't think I would enjoy talking about it or ever thinking about again. But the more we've talked about it today, the more of a big deal it feels, and I'll be damned if this wasn't a joy to dissect and savor, much like that ostrich egg.