The cover of Judy Blume's seminal coming of age novel, Are You There God? It's Me, Margaret, has gotten a very 21st century makeover—and people on the internet are up in arms about it. You know, since there's such a dearth of things happening in the world to be angry about right now. The cover design, which became a topic of contention after writer Jessica Huseman posted it to Twitter earlier this week, features iMessage-inspired text bubbles that imply a conversation between the protagonist, Margaret, and, well, God. Oh yeah, apparently he texts now.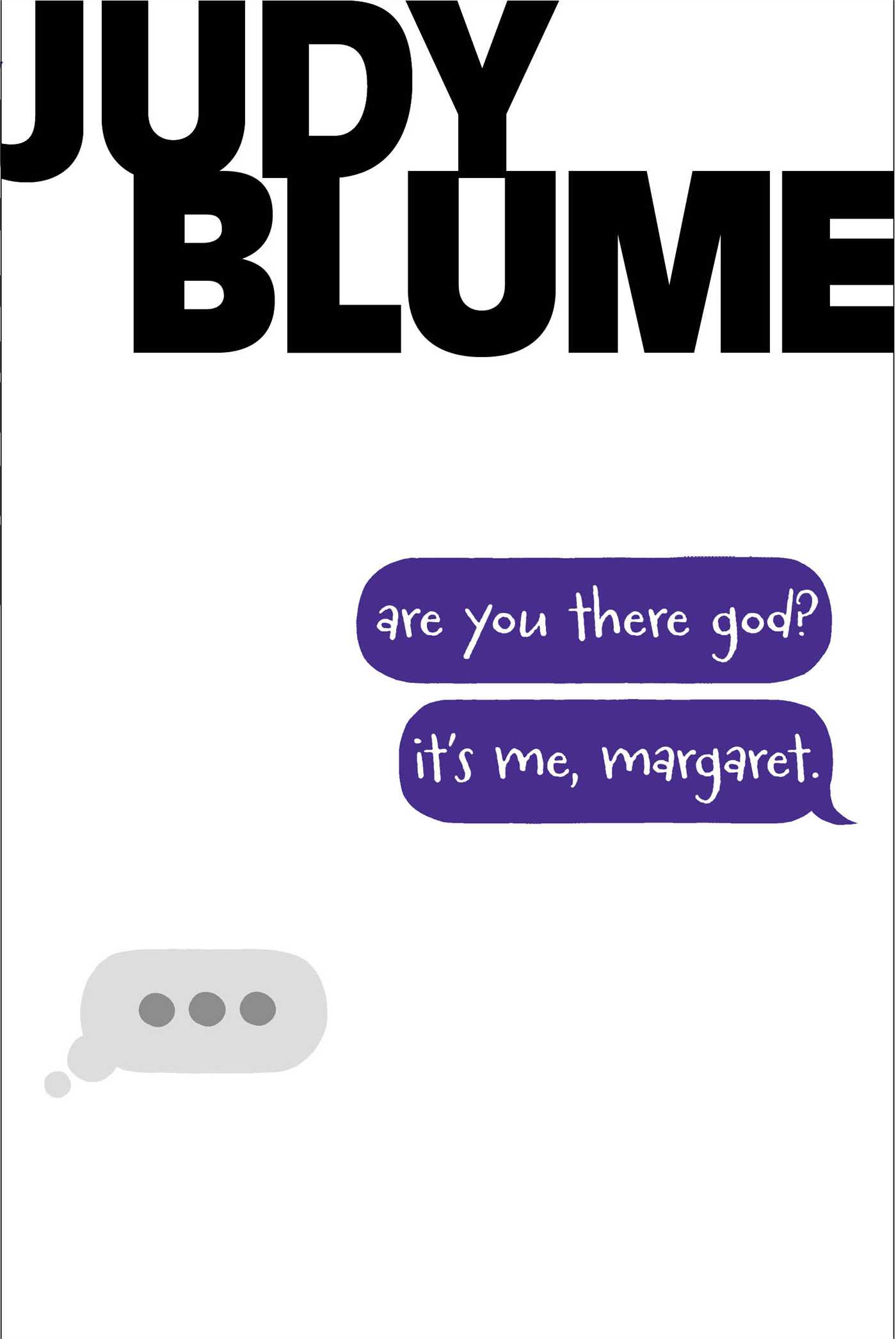 Many critics are incensed that a book published in 1970 would adopt such a contemporary cover design. Others simply find it amusing that this cover portrays God as an entity that has access to the iPhone and may or may not be leaving the teenage protagonist of a beloved YA novel on read. A lot of people simply seem nostalgic for the Are You There God? covers of their youth, but it's worth noting that the book has cycled through countless cover designs over the years.
While the social media fracas surrounding the surprisingly tech-savvy cover is recent, the reissue itself has actually been in circulation since 2014, and had previously received positive press from sites like Vox and Refinery29. After all, while the old adage is "don't judge a book by its cover," people—especially kids, who tend to be very visually motivated—definitely do. So if a cover that makes a book from the '70s seem germane to their daily lives and thus inspires them to pick it up, then isn't that a positive thing? Are You There God? has been lauded for generations for addressing topics like puberty, sexuality and religion head-on, and is at this point considered a classic. We want kids to read and we want them to read books that are smart, probing and stand the test of time, so why do we care if it takes a modernized cover to make them do so? In fact, maybe more books should take a page out of the Are You There God? manual. Imagine: The Outsiders with iPhones. Tuck Everlasting's Twitter account. Harriet the Spy as a hacker.
In all seriousness, it's also worth noting that not only does the new cover make the book more accessible, it also makes it more inclusive. While most of the previous editions depict a teenage girl on the cover, this one has genderless imagery that might make it more inviting for boys or gender non-conforming readers. While Are You There God? is about a girl, there's plenty in it that would be relatable to boys. Plus, many experts argue that encouraging boys to read books with female protagonists may make them more empathetic to the issues women face—or at the very least remind them that they're not the only people on the planet.
"We read to experience a panoply of perspectives. We read to learn of people and situations outside and beyond ourselves, so we can deepen our connection and understanding. We read to prepare for life. It follows, then, that we are raising our boys to dismiss other people's experiences, and to see their needs and concerns as the center of things. We are raising our boys to lack empathy," posits children's book author Caroline Paul, who addressed the topic in a 2016 TED Talk.
And while it is undeniably funny to imagine God texting, the cover does actually perfectly express the titular character's questions regarding religion and the existence of a God. In the book, Margaret is the child of a Jewish father and a Christian mother, and while she has been raised without organized religion, she prays often. For a school assignment, she begins to research various religions, which sets her on a journey to figure out what her own beliefs are. The imagery of someone texting God and his end simply being grey ellipses is kind of a great depiction of this existential quandary, if you think about it. Much more so than, like, a teenage girl looking pensive.
If you're still not convinced that the cover is low-key brilliant, take solace in the fact that Blume herself has endorsed it. Editor Justin Chanda told Vox in 2017: " We were thinking that this was the most iconic book for kids this age, so what is the most iconic thing we can think of? Texting emerged. It's funny, of course, because there are no cell phones in the book, but Judy has also said that if it was written today, Margaret would be a texter! We then asked 'What should she text?' and it was simple: The title."