It's been almost two years since Instagram ditched its classic chronological feed—which organized what users see based on when it was posted—for an algorithm that purports to prioritize the "most interesting" content, but often just gives you day-old posts from the same 10 influencers you, for some reason, still follow. It's still annoying. And it's also made it practically impossible for most of us to get the same number of likes on our selfies and #tbt vacation pics we once enjoyed, which is great for exactly no one's self-esteem.
Thankfully, it appears Instagram is considering putting a stop to the madness. User @jackharding, who is a beta tester for the app, posted to his Instagram Stories yesterday that his feed had reverted back to chronological order. "Instagram back to chronological order," he wrote. "I wonder if this is good or bad news." According to FStoppers, other users have made similar claims about their feeds.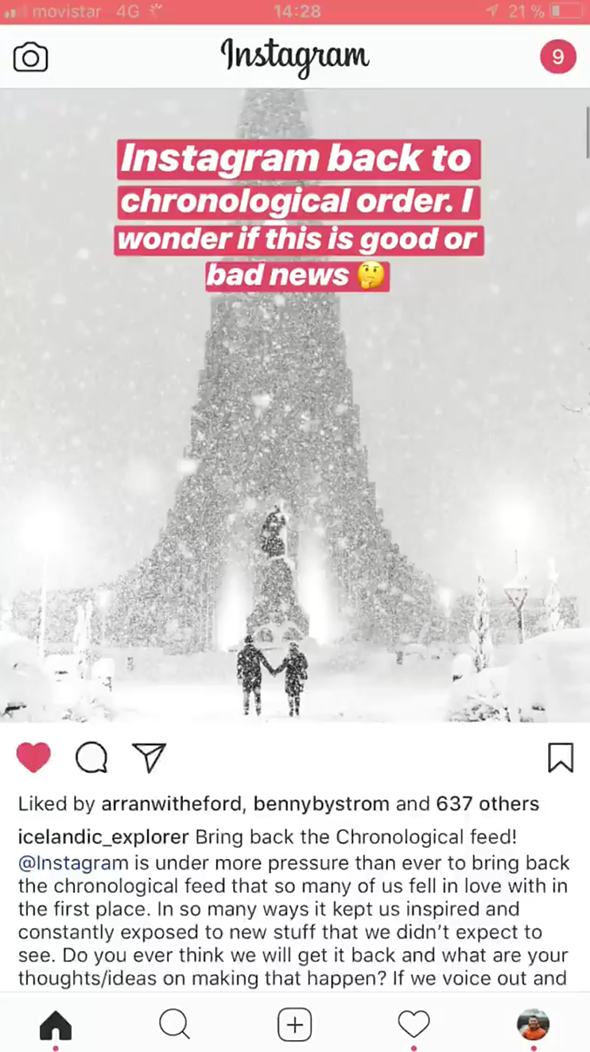 Users have been begging the powers that be at Instagram, which is owned by Facebook, to bring back the chronological feed pretty much since it dropped. It's been the subject of countless memes, several petitions, and a number of rumors about whether and when it'll happen. Some have even abandoned Insta for something called Vero, which boasts a chronologically-ordered homepage, labels like "friend" and "acquaintance" that you can apply to those you're connected with, and zero ads (for now, that is).
While Instagram hasn't committed in any way to bringing back chronology, it certainly seems like it would be a savvy PR move for them to do so. Not only would it stop the petitions and the angry rants, it would be heartening to see a major corporation actually listen to the people that support it. Even if it did take them almost two years to do so. And if we've learned anything from Snapchat's recent woes—in which the company has seen everyone from top influencers to regular folks abandon the platform following a series of increasingly bad redesigns—it's that no social media platform, no matter how popular, should take its users for granted.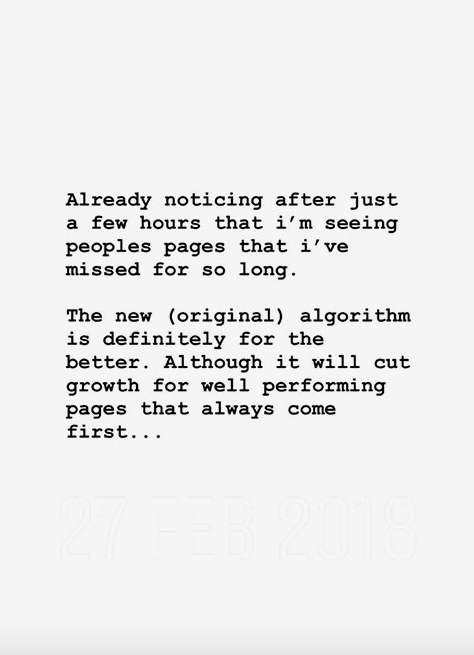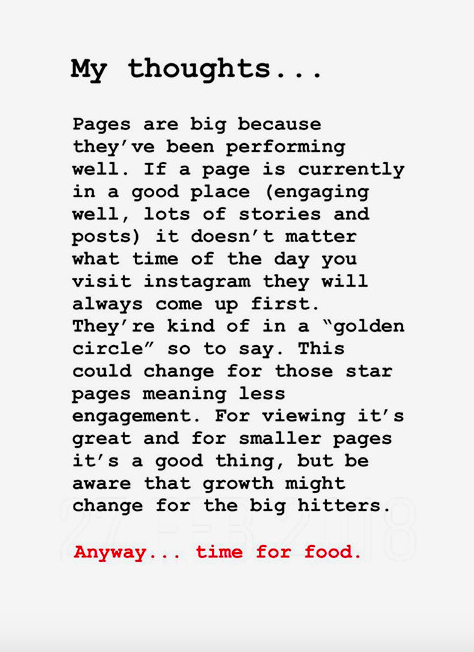 The one group the chronology change probably wouldn't be great for are the professional Instagrammers in the so-called "golden circle." Under the algorithm, they've enjoyed massive growth and engagement without having to put in nearly as much cash and effort as they would if Instagram reverted back to the chronological timeline. A backlash from these mega accounts, who certainly have more clout with the company than your average user, is one big, glaring reason Insta could decide to back down from what would otherwise be a very popular decision.
The company could also choose to make like Twitter and allow users to decide whether they want a chronological or an algorithmic experience. However, since most people would probably choose chronological, that wouldn't do much to help the influencers and big pages that have come to rely on the algorithm to put their content in front of as many eyeballs as possible.
While it remains to be seen what will happen to our feeds, it seems like it could come down to the big pages vs. the rest of us. While most users would probably prefer Instagram to be a place that fosters genuine connection via a feed that's completely organic, there are an ever-increasing number of pages reliant on the platform as a place to post #sponcon. These accounts have a symbiotic relationship with Instagram, and it's hard to imagine the company wanting to jeopardize that.
Is it naive to get excited about the possibility of Instagram returning to its roots because a group of consumers have made it clear that they want it to? Maybe. It is, after all, a company, and companies are typically interested in doing whatever makes the most cash. But social media is also inherently democratic. It's a place where being loud can pay off. And perhaps it finally has. But the question is, if it comes down to choosing between the needs of top influencers and those of the rest of us, whose voice is going to be the loudest?