The day before I was to cover L.A.'s Cannabis Wedding Expo, I discovered something truly horrific on the event's website: There would be no actual cannabis at the Cannabis Wedding Expo.
I immediately notified the editor who assigned me, hoping he'd cancel the assignment so I could Saturday normally.
"That's almost even more interesting then," he answered. "What is a person like who cares enough about their wedding revolving around pot to go to a whole convention without even getting to have any?"
Alas, right is right. So there I was on Saturday morning going to a weed event that had no weed. But I wasn't going without weed. At 9am, I chewed up a 75mg THC-infused edible, a tiny chocolate chip cookie not for lightweights.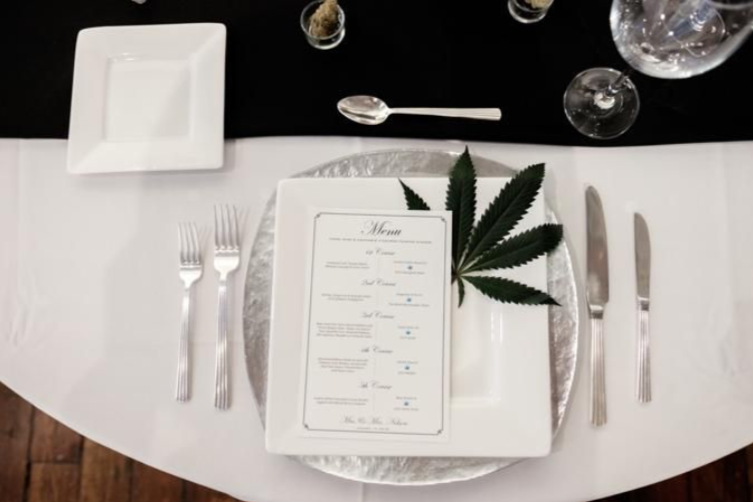 The warm fuzzies kicked in just as I crossed a small bridge amid the Disney-lite forest layout behind Sportsmen's Lodge, a San Fernando Valley hotel that was a big hangout in the days of the studio system. The Expo itself was held in a conventional-enough event space, a low-ceilinged, off-white, part-time ballroom strung in paper banners framing a cannabis leaf motif. Beneath those was a warren of tables helmed by ganjapreneurs of varying specialties.
Surfaces were strewn with bongs that doubled as flower vases and spice jars stuffed with crystalline buds. Elegant mock-dinner tables were variously staged, bud leaves and glass pipes aside the fine China.
A southeast Asian henna artist was standing to the side, offering samples of her art (ganja leaves upon request). An officiant in a green weed-leaf suit promoted JointVows, your new go-to for cannabis-friendly wedding ceremonies. Elevated Engagements would arrange a budtending bar at your wedding. Even major player David's Bridal had a table discretely placed along the room's rear wall.
The first participant I stopped to talk with was Zerep Holistics, a wholesale/retail company that sources CBD-infused products from across the country. Among their selection were CBD honey in bear-shaped bottles, bath bombs and gummies, pain creams, sports drinks and blackberry-peach kush bath salts.
The team behind Zerep said they were yet to supply a weed-specific wedding themselves. At this point, I wasn't sure weed weddings were actually really a thing, though I have a friend who reportedly left dime bags of coke at every seat at his wedding dinner in Northern California. Friends. Parents. Everyone got one.
Anyway, Zerep was attending that day out of the feeling that their CBD products, non-psychoactive and relaxing, unlike THC-infused cannabis products, were ideal for bridal presents, gift bags or to calm a nervous couple before the big day.
I was listening. But I was also getting pretty distracted by this sign in my periphery: "Same Penis, Different Toys."
It was perched right beside this woman's dyed blonde dome at a neighboring table holding condom and lube samples. I'd entered the domain of Ms. Mae, a drag queen who throws what are essentially Tupperware Parties for sex toys. Her motto: "Every fuck begins with Mae."
Mae likes to organize lingerie and pleasure parties, promising booze, sex toys and hilarity. While the woman herself rapped with a camera crew, I pressed the surrogate sitting in her chair.
"And how does weed play into the parties?"
She didn't really have an answer. Reaching a prematurely awkward point in this conversation, I pointed to one of the adorable anthropomorphic penises drawn in chalk on Ms. Mae's sandwich board.
"Nice. Who draws the penises?"
She looked up at me uncomfortably and mumbled. I thanked her and slunk away.
It was twenty minutes into the expo when I smelled a little kind bud wafting my way. Now we were talking. Maybe everyone was going to light up in here and this whole thing would devolve into some kind of orgy after all. But no. That was to be the last whiff of combustable cannabis I'd detect all day, most likely flowing from the robes of another attendee.
Feeling good and irie at this point, I floated over to the row where I saw the most cakes. There I met Camille Van Patten, the inked-up president of edibles company King Chameleon. Van Patten has a culinary background and previously worked for cannabis company Lowell Farms. Her company's motto is: Get Royally Baked.
Erudite and friendly, Camille said she could provide just about any infused treat that an event, wedding or bachelor party could desire, be it infused cotton candy spun on the spot, "chocolate dicks" or cakes bearing heroic dosages of THC. Perhaps inspired by spirit around her, she related a dream of creating a line of "edible edible underwear," ingestible panties like the kind people give each other at bachelorette parties, only with a high.
Like many in the industry, on both the producer and patient side, Van Patten is still trying to navigate the numerous hurdles of California's recent cannabis legalization, which is unfortunately taking a lot of products patients need off of dispensary shelves as companies attempt to catch up with the twists and turns of the new regulations.
She recently took a popular line of frozen desserts called Wowie Pops off the market to make sure everything is fully compliant. The LA-based baker and caterer's experience stretches to a wide spectrum of cannabis-laced events, including an infused Shabbat dinner.
Stationed across the aisle was cake artist Rachelle Harris of Got Sweetz, designers of wedding cakes that can be infused with THC. The cakes were as beautiful as any you could find for a ceremony, with trendy options like those edible encrusted geodes you'll see all over Instagram.
Harris has been making plenty of cannabis cakes for weddings lately, she said. And though she'll happily work with people to give them the dosage they ask for, her recommendation is to keep a cake under 25mg of THC.
"Anything over 25 and it's going to be a sleepy wedding," she warned.
That's also the point at which the flavors of sensimilla become harder to mask. While many heads don't like to taste the herb in their edibles, there are cooks who continue to experiment with, and praise, its strengths as a seasoning. In Harris' opinion, herb and nut flavors tend to work best with weed, including ingredients like hazelnuts, mint and rosemary.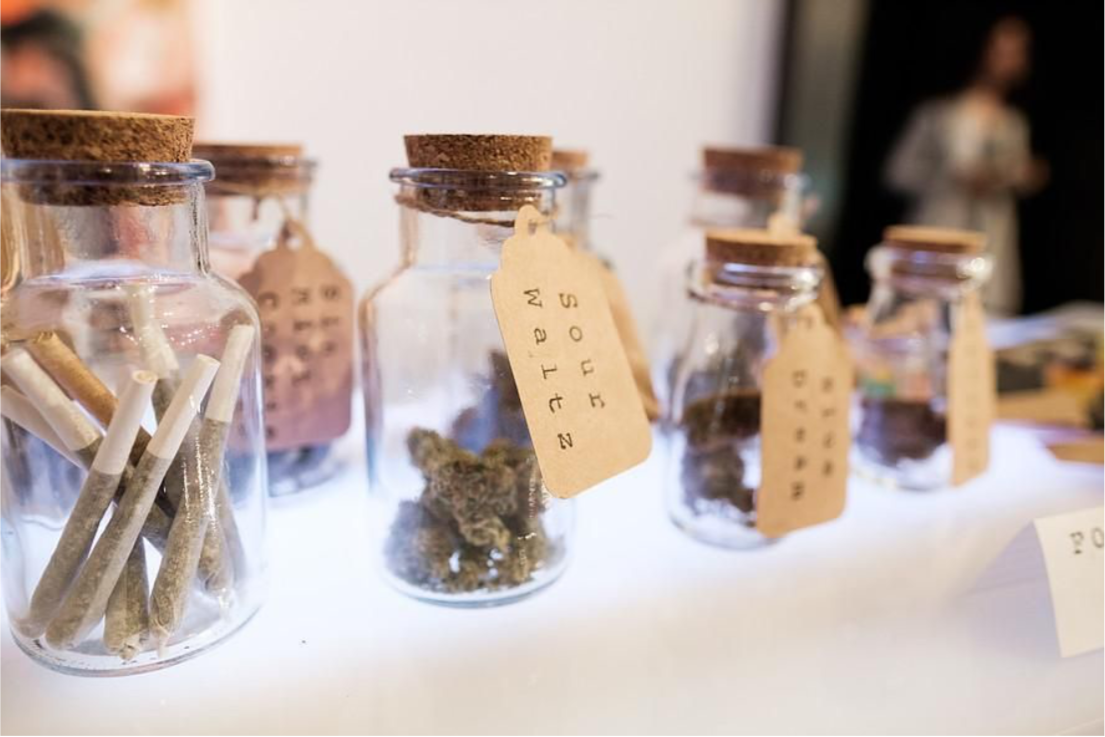 I passed more elegant table set-ups arranged with more leaves and bowls, along with a few bartenders willing to attend to make infused cocktails at your event or train you in the craft. There were also cannabis-infused masseuses promoting their trades. Perhaps not surprisingly, a table offering spanakopita and other savories had the most people standing around it, listening to a caterer they'll probably never employ to reap a few munchies.
Looking around, the room was certainly not a blur of unwashed hippies, Cheeches and Chongs wondering where the weed was at. The crowd was mostly middle-aged, respectably dressed and doggedly entrepreneurial. Couples holding hands mingled with impresarios, publishers and artisans.
Turning the corner, I ran into an acquaintance, Tomer Grassiany, whose company To Whom It May crafts gourmet cannabis chocolates that look like they could be sold over the counter at Dean & DeLuca's. And might be some day.
Grassiany sat behind his sweets, plus couple of high-end vapes. So I had to ask him what the deal was. Why weren't we all getting zooted in this motherfucker? Tomer explained that a few months ago, we all might be. But there were new rules stemming from legalization that bar weed from being consumed or given away at public events.
He has to go to great lengths to secure additional private spaces when throwing the infused burlesque and comedy nights he organizes around LA with his other enterprise, Grassfed, a curated cannabis events company at which guests are offered vape and chocolate samples.
I made it to the last row to be served a CBD salad and CBD ravioli from a guy named chef Matt whose website isn't working right now. Before taking in the elegant paper wares of Camille Ochoa, whose San Francisco-based company Canna Reign crafts items like handmade, ceramic suru boards and papel picado banners.
Of the vendors I had spoken with, few had actually participated in many weed weddings to date, but were looking to connect with a new market in which they could distinguish themselves and compete. The story was a little different with Harmony Chapel, a charming, cannabis-friendly B&B on Cali's Central Coast that has overseen its share of weeded matrimony. Weddings and receptions with spliffs on the side were something they have seen in a definite increase in.
Next (score!), I was given a few samples of CBD skin cream (which quickly cleared up a weird ankle rash), bath bombs and bath salts from a vendor named Bella. Then I met a dietician helping people work cannabis and other natural products into their workout routine. Both were attempting to shatter myths about lazy stoners and help ease people out of what Grassiany referred to as the "green closet."
"Handjobs are my specialty." Does your head tend to turn when you overhear something like that? Mine too.
The table next door was a blur of dildos, manned by a sexpert in a shimmering bodice who organizes bachelorette parties and the like. Word is, she also, supposedly, gives a great handjob. We didn't get to speak. Being the media's wet-dream of a quote-machine, she was a little mobbed. Point is, hand jobs. Or weed. I really didn't know anymore.
I ended my tour of the Cannabis Wedding Expo at the pastry-laden table of Babinka Treats, speaking with its owner Michelle. She was really enjoying the event, preferring it to what she calls the typical "sesh" event "where everyone just wants to get fucked up" and pass out or whatever.
"It's nice to be at something elevated where people appreciate what you do."
Despite having just described the exact situation I was hoping to be very stoned in today, I nodded with compassion. Then I accepted one of her churro donuts, which I swear, may have been the best donut I've ever eaten.
Then I left. I left with three CBD beauty products. I left with my belly satisfied. And I left with an appreciation for the hard work and passion of so many of these enterprising individuals that are helping to push cannabis into the wider acceptance. Even if I left no higher than when I walked in.
And of course I spoke with a lot of attendees to get at the heart of the question: Who attends a weed event with no weed? But unfortunately, I forgot to place fresh batteries in my recorder and totally forgot what every one of them said.