Following the latest horrific school shooting in Florida, many companies have taken stronger stances on gun control. Delta, UPS and several other major corporations have ended their relationships with the NRA. Dick's Sporting Goods stopped selling assault rifles. Bumble, a dating app that has no connections with the NRA, is now doing what it thinks is its part, announcing this week that they won't tolerate profile photos of people holding or using firearms, just as they do with nude photos or ones that promote hate speech.
While their intentions are pure, I think Bumble is missing the mark on this one. Personally, when swiping for true love, I'd prefer to know if my potential paramour keeps a rack of rifles underneath his mattress. Better to figure that out up top than on date three. Plus, plenty of people shoot for sport. Again, not something that necessarily piques my interest, but good to know if this dude is going to make us hang taxidermal antelope above our fireplace someday.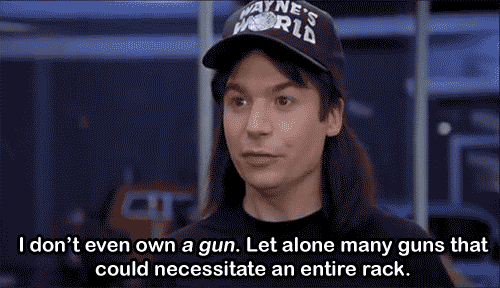 Bumble says that people who shoot for sport and are hobbyists can appeal to have their photos reinstated. But that brings up my other issue: those are usually the only types of people I see holding guns in online dating profiles. Not saying that those people couldn't be irresponsible gun owners, but as a frequent user of dating apps, I could count on one hand the number of times I've seen photos of guns suggesting violence. And, like I mentioned earlier, when I see those photos, I know immediately that person isn't for me. Usually it's sunburned dudes drinking Icehouse with a dead deer hanging off their tailgate, tongue-first.
The reality of 2018, with people more willing to let their various flags fly, is that you'll come across a many people with different views than you, and, I'd love as much of that information as soon as possible. Ideally, users would have to show me their social media posts directly following the 2016 election, what they consider a good meal, and how many hours a day they spend playing video games. What school you went to or your favorite taco spot in the city is far, far less crucial.
So while Bumble gets points for intent, when it comes to people I might bring home to meet mom and dad, I want to know their position on the Second Amendment spectrum up front. If you deem your profile picture incomplete without your guns, by all means, show off the entire arsenal. I will continue to pose with pet lizards I meet and hope that seduces the man of my dreams.