Saquon Barkley handed out invitations to the freak show this weekend at the 2018 NFL Combine. The Penn St. running back, who the Browns are apparently considering at first overall, recorded a 4.40 40-yard dash, 29 reps of 225 pounds on the bench press, and a jaw-detaching 41" vertical leap. To put it into perspective, here's how that stacks up against some other notable combine measurements:
Penn State RB Saquon Barkley at 2018 Combine:

- Stronger than Joe Thomas
- Quicker than DeSean Jackson
- Faster than Devin Hester
- Jumps higher than Julio Jones@PennStateFball pic.twitter.com/usgR6vJvOn
— NFL Research (@NFLResearch) March 2, 2018
We also saw our beloved Shaquem Griffin, UCF's one-handed defensive phenom, explode for a 4.38 40 and 20 reps on the bench press.
What a moment in our Combine coverage today — @Shaquemgriffin putting up 20 reps of 225 with a prosthetic left hand. Inspiring, emotional, wonderful. pic.twitter.com/InLBEFQwS4
— Rich Eisen (@richeisen) March 3, 2018
These are feats that shouldn't be physically possible within the nature of a human being, but players like Shaquem and Saquon just… do them anyway. Which got us thinking, what are some of the other especially astonishing moments in the history of the combine? The NFL's laboratorial testing hub is littered with names both familiar and obscure. So let's take a look back at the most notable performances to take the combine by storm.
Deion Sanders has left the building.
Let's start with Primetime, because while you may have already heard this oft-told tale, you may not have. And if that's the case, it's important that you sit down, wipe your Shaquem Griffin tears away and open your eyelids the largest and widest you have ever opened them:
As the story goes, Deion wasn't even slated to participate in the 1989 combine at all, but as more and more players opted out of the 40, he decided last minute he would run, take his medicals and call it. Sanders apparently walked up to the line cold turkey, clocked a 4.30, then went back to run it again and clocked a 4.27. But here's the thing: he didn't pull up, or cool down to take a breath… he just kept running, waving to the crowd of scouts and GMs as he sprinted clear off the field and straight through the tunnel. Nobody saw him again.
Take it from Sanders himself, who prepares for an NFL combine the exact same way I prepare to use a Keurig machine in the morning:
"I don't even believe I stretched, you wanna know why? Because I never seen a Cheetah stretch before he go get his prey," he said. "And I ran, I ran so fast I felt like I was floatin' ... I felt like I was kinda coming off the ground ... and as I hit the finish line I could remember ... everybody was in disbelief. I just wanted the first person to say 4.2-something because I know 4.3 was not even in the factor."
The story's been embellished as folklore over the years (some folks like to say he ran it in dress shoes), only giving further credence to the original tale's spectacle.
Bo Jackson, human torch, runs a 4.12.
Well, sort of. They recorded hand times back in 1986 as opposed to the laser technologies they use now. But even if you're the kind of no-fun dolt to argue against that sort of thing, the International Association of Athletics estimates that adding .24 to a hand time will give you the electronic time at its widest margin. That means a 6'1" 230-pound Jackson ran, at worst, a 4.34 40-yard dash in an era where ball players crushed rotisserie chickens in lieu of creatine shakes.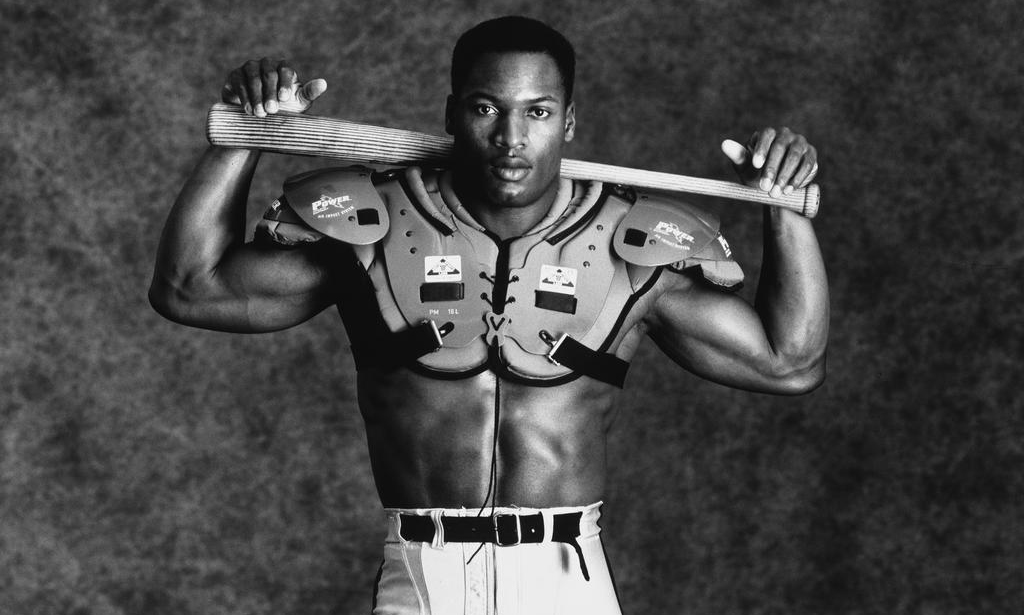 Byron Jones sets a combine—nay, world record.
One of my favorite rare occurrences in sports happens when an athlete arrives at their respective event to compete within the specific realm of their sport, and winds up achieving something on a bigger, grander scale of humanity. Giannis Antetokounmpo did this when he jumped over Tim Hardaway Jr. on a fastbreak dunk, as did Henry Rowengartner when he threw a frozen rope strike to home plate from the right field bleachers at Wrigley.
But as far as the combine goes, no one has done this aside from Connecticut DB Byron Jones, who landed a 12'2.75" standing broad jump in 2015.
It was good enough to beat the previous world record of 12'2" set by Arne Tvervaag of Norway in 1968. For perspective on how difficult that is, feel free to try the standing broad jump at home. It's an easy and humbling exercise that serves as a nice reminder of how not-athletic you are.
Dontari Poe is Shakespearean poetry in motion.
As someone who couldn't crack a 4.8 40 as a receiver in high school, I am personally offended at how fast Dontari Poe is. The 346-pound DT out of Memphis ran an official 4.98 in 2012. And on top of that, he ran it with the ease and sheer grace of a freaking gazelle:
Oh, and he also notched 44 reps of 225 on a bench press that day.
Gerald Sensabaugh tests positive for getting extremely high.
The UNC defensive back notched a 46-inch vertical leap at the '05 combine—good for a combine record, and higher than any of the dubious recordings of fellow alum Vince Carter's historic 2000 dunk contest.
Vernon Davis shifts the paradigm.
Vernon's 40 time is the fastest ever recorded for a tight end at 4.38 (at 6'3", 254 pounds). Not only did it shoot him up the draft boards, it helped to crack Antonio Gates' initial entryway for fast, hyper-athletic tight ends in the NFL.
Shaquem Griffin continues to be the most inspiring sports story of the past year.
Let's give Griffin his own section, because, again, he benched 225 pounds (!) 20 times (!!) with a GD prosthetic hand. And that 4.38 40 time? Here it is again, paired up against some folks you may have heard about:
WOOOO @ShaquemGriffin beats @RSherman_25, @EzekielElliott AND @juliojones_11 in the Simulcam!

: #NFLCombine LIVE on NFL Network pic.twitter.com/7ZdeVndtgX
— NFL Network (@nflnetwork) March 4, 2018
And to think, he wasn't even invited to the combine a month ago. I can't wait to watch Shaquem Griffin spit-roast every single NFL team that passes him up in 2018.