This year's Super Bowl is shaping up to be one of the largest degenerate gambling fests of all time, with an estimated 4.76 billion dollars being wagered on Sunday's game. There are over 900 prop bets available alone, most of which will be gambled upon illegally (the classic way). But how many of them are worth genuinely exploring?
I, for one, have the gambling heart of a coward—I fold a lot—and find much more interest in creating my own propositions for friends and family to bet their life savings on. So in the spirit of dramatically upgrading your impending Super Bowl party, let's do exactly that (as well as toss in a few real ones too).
A Few Actual, Weird Prop Bets
Will Pink be airborne for any part of her national anthem? Yes: 5/2 No. 1/4
Over/Under Number of times Brady's age is mentioned during the broadcast: 1.5 Take the over.
Over/Under Number of Tweets Donald Trump sends on Super Bowl Sunday: 5 Again, no idea who this is.
Will a flea flicker be attempted? Yes. There were three of them alone in the championship games. ($100 to win $240)
Which color of Gatorade will be dumped on the winning coach? Lime green. ($100 to win $125)
Will former Eagles quarterback Donovan McNabb's vomiting incident from Super Bowl XXXIX be mentioned during the broadcast? Yes: 3/2 No: 1/2
DIY Prop Bets
Odds Tom Brady profanely disparages a cameraman: 1/10
Easy money.
Odds Tom Brady has actually ever listened to Kendrick Lamar's DAMN.: 100/1
Tom Brady likes DAMN. pic.twitter.com/9ZiXIMpwRq
— Natalie Weiner (@natalieweiner) January 31, 2018
Odds Bill Belicheck opts for a completely sleeveless hoodie: 10/1
You can (U.S.) Bank (Stadium) on this one. (Wow.)
Odds Cris Collinsworth Super Bowl-slides his way into Sunday night's broadcast: 1/100
Like clockwork.
Odds Nick Foles nails his head on the tunnel overpass running out for pregame: 15/1
Odds Justin Timberlake wears a tiny beanie that doesn't cover his ears: 1/20
Odds Tom Brady wears a gigantic beanie that covers his entire person: 1/25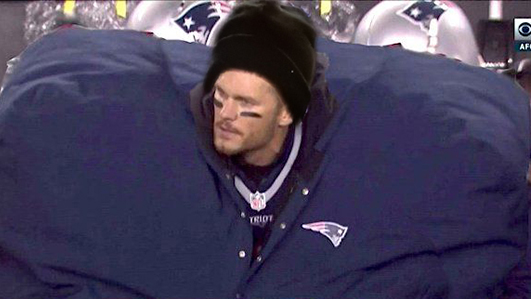 Odds Janet Jackson returns for a halftime performance with Justin Timberlake: 5/1
You can actually wager on this one.
Odds Justin Timberlake hammers home a Prince tribute for the good people of Minnesota: 2/1
Again, real odds.
(I'd also like to note that if he did this with one of those hologram versions of Prince I would probably jump through my television set.) (Imagine Hologram-Prince ripping through a Purple Rain guitar solo... again... in the rain.)
Over-Unders
Cris Collinsworth broadcast beers: 1.5
I'm guessing Cris slides his way into two here.
Bill Belichick smiles: 10
We're almost there.
NFL Network has a Bill Belichick smile counter. pic.twitter.com/8RJLoF6uCS
— Pats Pulpit (@patspulpit) January 30, 2018
References to Donald Trump: 2
No idea who this is but I would take the under.
Eagles players playing with broken legs: 0.5
Never forget.
In case you forgot, @terrellowens played Super Bowl XXXIX with a broken leg and still managed to do all this. pic.twitter.com/dnStI3GgzY
— The Checkdown (@thecheckdown) January 31, 2018


Will It Happen?
A Florida State alum records a tackle: Yes
Fact: Every single player on Philadelphia's defense is a Seminole.
Philly-icon Will Smith shoots out of the halftime stage to join Timberlake in a rendition of Gettin' Jiggy Wit It: No, but it'd be a lot cooler if he did.
Nick Foles enters U.S. Bank Stadium via parachute at the end of Pink's National Anthem: Yes
He'd be an idiot not to.
Tom Brady leads not one, but two Super Bowl comebacks: Yes
The Eagles hit a team-wide Electric Slide after their Super Bowl 52 victory:
Let's do this.