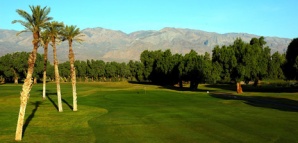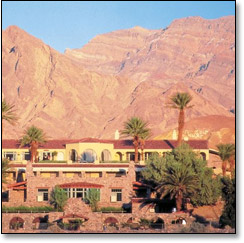 For an unearthly escape from civilization, chill out in the hottest spot on earth: Death Valley. Desert temperatures reach over 120 degrees in the summer but hover around a dry 70 in the winter. Perfect for a January escape and a little golf below sea level.
Stretching across millions of acres on a vast expanse of scorched earth and sand, date palms and mineral springs suddenly erupt around a Mission-style adobe villa called the
Furnace Creek Inn and Ranch Resort
. Equipped with all the modern amenities and ranch activities you could roll some tumbleweed at—a spring-fed swimming pool and horseback riding included—you'll fare much better than the parched pioneers who didn't quite make it across this inhospitable landscape in the 1800s. Your room's terrace overlooks exotic views, where miles of salt flats glisten, golden sunsets glow on the distant Funeral Mountains and a dome of stars blaze above.
To make the most of your trip, take in 18 holes on an oasis at the
Furnace Creek Golf Course
. When your 5-iron acts up, blame the strange shifts in gravity or the lack of altitude (at 214 feet below sea-level, it's the lowest golf course on Earth) and go hike the eerie terrain of Hell's Gate and Dante's View.
At the end of the day, kick back with a drink at the
Corkscrew Saloon
. We recommend a martini. Dry.