Week 14 of the 2017 NFL season has officially settled in after a Sunday full of great plays, terrible weather and outstanding celebration work. Each week, we'll take part in admiring these fine catches and blunders by handing out a set of accolades. Some players will undoubtedly be proud to take home the hardware, others not so much.
Most Impressive Performance: The Weather In Buffalo
Thanks to some casual lake effect snow in upstate New York, The Revenant Bowl was by and large the most delightful game-watching experience of the afternoon. There were hysterically missed field goals, epic extra points… hell, players didn't even know where they were half the time: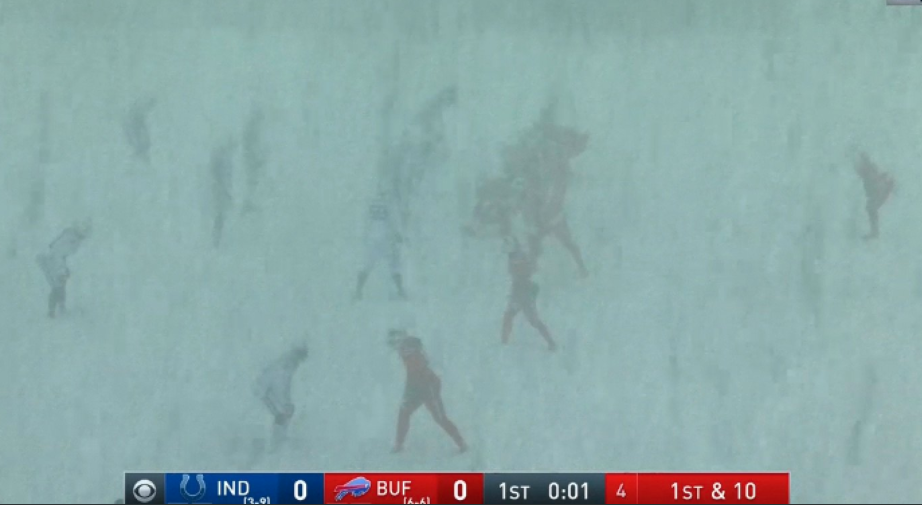 That's Kelvin Benjamin lining up a good three yards past the line of scrimmage. And you know what? Nobody really cared. In fact, that's pretty much how this whole game went for every ref, coach and player involved. Just take a look at this Jack Doyle touchdown to put the Colts back in the game with a minute left:
Snowy @Colts TD in Buffalo pic.twitter.com/wTuXY5KkXd
— NFL (@NFL) December 10, 2017
This was vintage 1950s football in the year 2017. Let's get a Super Bowl to Buffalo ASAP.
Least Impressive Performance: The Jags Fan Who Threw a Beer at Quinton Jefferson
Things got extra chippy at the end of a competitive Jags-Seahawks game in Jacksonville, where Sheldon Richardson was promptly ejected for throwing a punch after a victory kneel.
Michael Bennett dangerously rolls into the centers leg. Sheldon Richardson ejected for throwing a punch. pic.twitter.com/Qsyr7FJWNH
— Jesse Foster (@Jesse__Foster) December 11, 2017
Following another kneel-down, Seahawks defensive end Quinton Jefferson was also ejected for unsportsmanlike conduct. Upon heading into the tunnel, a bottle was thrown at Jefferson's head, who then decided he, too, would like to throw something back: these hands.
Things are getting UGLY in Jacksonville pic.twitter.com/rsPnztEZAs
— Will Brinson (@WillBrinson) December 11, 2017
As a big, big fan of the Malice at the Palace, you should know my full support is behind Jefferson here. Should he probably have shown a little more restraint? Sure, whatever. But the most cowardly act in sports fandom is throwing something legitimately dangerous in a player's direction. Leave it to Jags fans to become so vastly overwhelmed by a single winning season that they start to waste their precious cold beers on something this dumb.
The Now Wait Just a Damn Minute Award: Antonio Brown
I'd like to take a minute to acknowledge some familiar, high-octane football in the form of one Antonio Brown, who went off for 213 yards on 11 catches in a Steelers primetime win over the Ravens last night.
One of my closest friends, who played receiver with Brown at Central Michigan, still to this day tells tales of the All-Pro's work ethic. My favorite story of his: Brown would line up agility ladders throughout his entire apartment so he could literally crank out footwork at any given time during the day or night. This is especially iconic, only because it's a lot of fun to imagine Brown getting intimate with a hot date, going to the bathroom to put a condom on, and then icky shuffling back to the bedroom through a nude set of agility drills.
I know... this is exactly the kind of folklore you always hear about the greatest—and the kind of hard work that propels you to the top of a shrinking MVP race in 2017.
The Revolution Award for Achievement In Prince Homage: Cam Newton
Cam Newton had a perfectly fine game against the Vikings yesterday, as evidenced by this pass alone:
FUNCHESS #Panthers #MINvsCAR pic.twitter.com/07Rt3FTYJY
— Cardiac Carolina (@CardiacCarolina) December 10, 2017
But his real shine came from the cleats, wherein Newton drew inspiration from the waters of Lake Minnetonka to squander the Vikings (and their friends) against him and the Revolution.
Cam Newton rocking the Prince shoes #WXII pic.twitter.com/yTiYxAquEA
— Brian Formica (@BrianFormica) December 10, 2017
The stylistic innovation didn't stop there though, as Cam took the post game podium in this especially bold brimless number: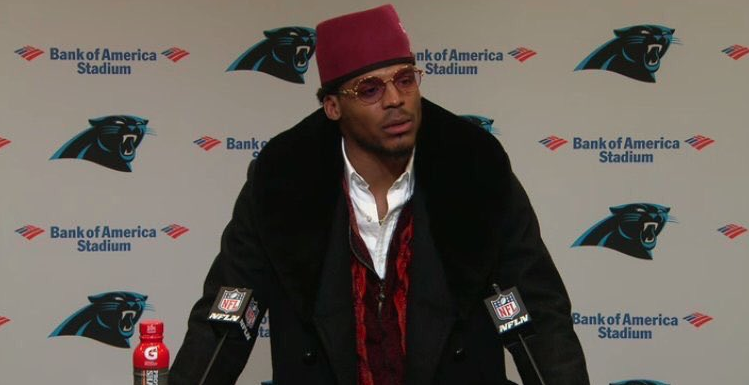 I can't confirm nor deny, but sources are telling me that afterwards, he took every member of the Carolina press back to his house for pancakes... pancakes.
Best End Zone Celebration: The Entire City of Buffalo
That's right, we're headed back to Buffalo! In a week quite barren of spectacular celebration work, the Mafia came through after Shady McCoy's walk-off touchdown to seal the Bills victory.
It's a @buffalobills WIN-ter WON-derland pic.twitter.com/Su4Y8xCTsj
— The Checkdown (@thecheckdown) December 10, 2017
I have never seen so much joy and union between player and fan in my life. I also have never seen so many snowballs. For the first time this year, I am truly jealous of Bills fans—they deserved this win. See you next week.