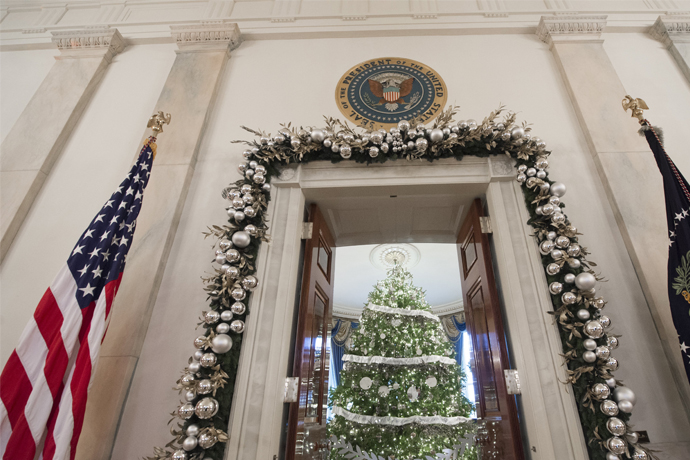 The current weather, a balmy 60°, might not usher in the holiday cheer we're used to this time of year, but luckily the nation has decked its halls in festive celebration. From the Rockefeller Christmas tree to the foyer of the White House, it is undeniable that Christmas time is nigh. What's that? Oh, the White House Christmas decorations aren't joyful and merry but instead reminiscent of a nightmarish hellscape? Interesting. Let's take a look.
Ah yes, it looks like what is supposed to be a magical winter wonderland during the daytime turns into a post-apocalyptic horrorshow once the lights are dimmed. Now, I'm not a professional decorator by any means (I can't even untangle twinkle lights) but lighting the thin scraggly branches from underneath so that they cast Jack Skellington shadows on the ceiling feels like it's working against the Christmas spirit.
Twitter user, Brian Gaar, noted the similarity between the hallway decorations and meeting your impending demise in video games.
White House looking like the last save point before you fight the final boss pic.twitter.com/3u5vUkRqIG
— Brian Gaar (@briangaar) November 28, 2017
Other themes the White House might have purposefully been going for are, "Post-War-on-Christmas," "Nuclear Wonderland," "District 12 Holiday Bazaar," "Santa's Workshop Exploits Its Laborers" and "Make America Great Again Horror Story: Asylum."
But you know what? Props to the White House decorator who took such a big risk this year. It's absolutely terrifying but it does have people talking, and that's what counts.