Week Eight of the 2017 NFL season has officially settled in after a weekend full of mind boggling plays, terrible coaching and outstanding celebration work. Each week, we'll take part in admiring these fine catches and blunders by handing out a set of accolades. Some players will undoubtedly be proud to take home the hardware, others not so much.
Most Impressive Performance: Deshaun Watson and Russell Wilson
The most exciting game in football (because the World Series is currently on acid) came courtesy of the Seahawks and Texans on Sunday, wherein quarterbacks Deshaun Watson and Russell Wilson got together before the game to decide they'd combine for 951 total yards and 8 touchdowns on the day. Watson, who may be the most exciting player in football at the moment, accounted for 469 of those yards against the vaunted Legion of Boom.
Alas, he was bested by Wilson, who led a thrilling 80-yard drive on the final Seahawks possession capped off by a game-winning toss to tight end Jimmy Graham. Here it is now, only this time scored by the theme music from Titanic:
WHAT A GAME IN SEATTLE!!!!

RUSSELL WILSON'S GAME WINNING TOUCHDOWN PASS TO JIMMY GRAHAM IS EVEN BETTER WITH TITANIC MUSIC!!!

pic.twitter.com/FK99D9eIVE
— Titanic TD(@TitanicTD) October 29, 2017
(In case you're unfamiliar, this Twitter account overdubs great sports moments with—that's right—the Titanic theme song. It is currently the best thing going on the internet.)
Here's to hoping we get more touching moments like these in weeks to come. Lord knows the NFL needs them.
Least Impressive Performance: Tampa Bay Buccaneers
The Bucs lost to division-rival Carolina on Sunday in a brutal 17-3 slog at home. Jameis Winston's throwing shoulder still doesn't look great after banging it up the past several weeks, and Dirk Koetter's offense doesn't exactly seem all that dynamic either. There's still plenty of season to go, but with the Saints and Panthers sitting atop the NFC South, all signs point to another tough year of fleeting mediocrity for Tampa fans.
The Will Byers Award for Ambiguous Pain and Anguish: Andrew Luck
Report: Andrew Luck feeling pain again, trying to figure out why https://t.co/UxMkWq3RCn
— ProFootballTalk (@ProFootballTalk) October 29, 2017
Team Doctors: "Tell us what's wrong, Andrew. You can trust us. No more secrets."
Luck: "I don't know. It's just... this feeling—it used to come and go. But now… now it's everywhere."
The Annette Kellermann Award for Excellence in Synchronized Sport: These Two Referees
pic.twitter.com/BSNQOGcNYv
— DJ Bean (@DJ_Bean) October 29, 2017
Ref A: "Clap your hands everybody."
Ref B: "If you got what it takes."
Ref A: "Cause I'm Kurtis Blow and I want you to know that…"
Ref B: "These. Are. The breaks."
[clap]
Best End Zone Celebration: Philadelphia Eagles
The Eagles continued their current streak of dominance against a hapless 49ers team yesterday, and I'm not strictly speaking about the wins column.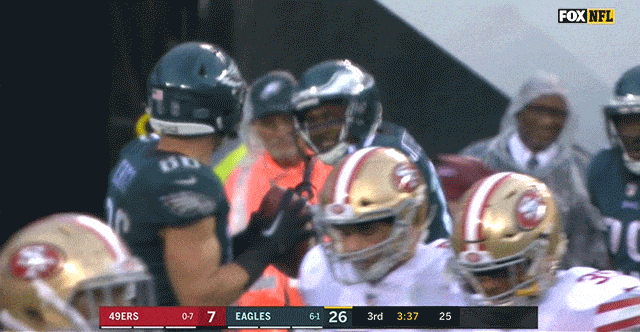 The Eagles and Steelers are leading the league in exceptional touchdown celebrations this year, with this hit-by-pitch gem taking the top mark for week eight. One particular thing to note here is Zach Ertz's decision to turn and run after nailing Alshon Jeffery with a high-and-tight fastball. I kind of wish more pitchers did this after intentionally hitting a batter, just to see the magnificent chase that would inevitably ensue (the fights almost never live up to the hype anyway).
Enjoy these beautiful moments while you can, Philadelphia. At some point, your organization will undoubtedly find a way to drag you back into a state of rugged, perpetual hell. See you next week!