The NBA is a truly special place, and with the start of a new season on the horizon, we intend on honoring such a place the only way we know how: raising a glass to the gentlemen of the league. The vets. The ring chasers. The old dudes who keep gettin' them checks. These are they. And they are perfect. Let us toast.
Richard,
First off, I'd just like to thank you for letting me say a few words tonight. You've always been there for me on those slow Saturday mornings when I needed you most, nestled softly into a SportsCenter Top 10. It is simply an honor to return the favor, Rich. You continue to be a dear friend in that way. But more importantly, you continue to be an even better posterization of mankind.
Too often have you flown under the radar next to larger NBA luminaries—Jason Kidd and LeBron James to name a few. But let me ask you this: when has LeBron James ever risen to the rack to turn Klay Thompson into a sack of potatoes?
My heart still bursts out of my chest every time I watch it. You were 36 then—Jeff Van Gundy tells you so at the 20-second mark—and most of the 36-year-olds I know are married with children or stoned with children (almost none of them able to dunk a basketball). Do you remember Mark Jackson's joke at the end of that highlight? When he said it was "great to see that Mr. Jefferson is still movin' on up"? An elite-level broadcast joke, really. Do you know who else has jokes? You, Mr. Jefferson.
On the bright side for Cleveland tonight, here's LeBron making jokes about his hairline pic.twitter.com/SYvB5usBfI
— Ben Axelrod (@BenAxelrod) October 6, 2017
Richard, you goddamn delight. Only you could make King James laugh so earnest and childlike. You're like if Jifferson from Bowfinger could dribble basketballs and host podcasts. Hell, your names are a letter apart, even. How about that? Richard Jifferson.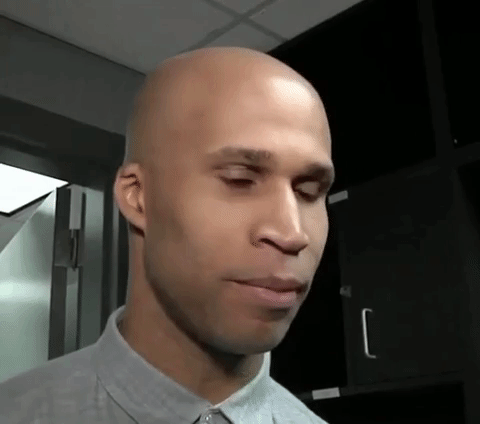 Richy, my guy... I'm glad you're enjoying your elderly years so gracefully with the Cavs—a team that is and always has been a perfect fit for you: fun yet competitive, charming yet ruthless. They're boasting a roster deeper than ever this year, stirring soft whispers that you're a little more tradable than in years past. But until that time comes, here's to one last disrespectful dunk, one last perfect smile, and perhaps, just maybe, one last devilish wink at that double-dealin' rat bastard Kevin Durant in an NBA Finals. Cheers, Richard.