Week Five of the 2017 NFL season has officially settled in after a weekend full of mind boggling plays, surprising quarterback play and outstanding celebration work. Each week, we'll take part in admiring these fine catches and hysterical blunders by handing out a set of accolades. Some players will undoubtedly be proud to take home the hardware, others not so much.
Most Impressive Performance: Aaron Rodgers vs. Dallas and the Sun
The above sounds like a weird, scrubbed Rawhide episode from 1960, but this is a real thing that happened Sunday afternoon. Good thing for the Packers, it doesn't really matter what you put in front of Aaron Rodgers. Give the guy 60 seconds and 10 good men and he'll gladly fuck Jerry Jones's entire day up. Seriously, the below YouTube clip has a total duration of 1:20 including replays—when have you ever seen a game-winning NFL drive fit that nicely into an 80-second clip?
Rodgers, a presumed Dallas County felon, always seems to take great pride in totally ruining the Cowboys. We should all thank him for it.
Least Impressive Performance: Nick Folk
You might have heard, but Nick Folk—the equivalent of a sprinkler that came to life and started kicking footballs—didn't have a very good game Thursday night in a tight Bucs home loss to the Patriots.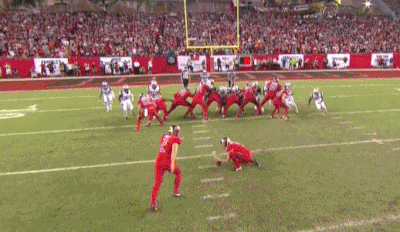 The one above was from 31 yards out. It was also about the closest he would come to putting one through the uprights—going 0-for-3 on the night and turning a terrible Bucs performance into a heartbreaking one. (He was also replaced and put on IR after the game.) (That's basically a polite way of saying you're fired in the NFL.) (Poor Nick Folk.)
Best End Zone Celebration: Pick One
On one hand, the Green Bay Packers were feeling very Olympic Sunday:
Green Bay we have a bobsled team #GoPackGo pic.twitter.com/7mBT7Bt9t7
— Green Bay Packers (@packers) October 9, 2017
That's outstanding execution from all three Packers wideouts. And in case you forgot, Cool Runnings means peace be the journey—just the kind journey the Packers would likely enjoy on the road to another Super Bowl. It would have easily taken the top spot if it weren't for the Eagles' outlandishly fun home run performance: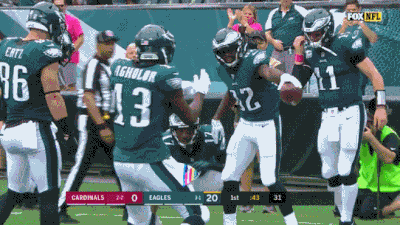 My favorite part of this is that everyone involved—the batter, the catcher, and all three umpires (lol)—gets in on the celebrating. To be honest, I'd like to see more of this in the sport of baseball itself. Why can't we just have the home plate umpire immaculately throw his hands up as soon as Aaron Judge makes contact with a baseball? Isn't that substantially more fun than the dumb twirly hand-gesture they use to signal a homer now? Let's do this, MLB.
The Dennis Green 'They Are Who We Thought They Were' Award for Being Who We Thought They Were: Myles Garrett
The Cleveland Browns lost Sunday afternoon because they are the Cleveland Browns, duh, but number one draft pick Myles Garrett was a lone sight to see. The defensive end recorded a sack on his very first play of the game which, in my opinion, is a perfectly fine way to start your NFL career. But he wasn't done—he recorded another later in the game, this time adding a little more flare with a patented J.R. Smith three-ball celebration. Welcome to the league, Myles Garrett. Please stay as long as you'd like.
The Now Wait Just a Damn Minute Award: This Chicago Bears Two-Point Conversion
This is by far the best way to ever get two yards on a football field:
AMAZING.

This 2-point conversion play call! #MINvsCHI #DaBears pic.twitter.com/HiuA684T0X
— NFL (@NFL) October 10, 2017
[Your grandpa slaps his knee with a rolled up morning paper]
"Well hot dog if they didn't just git 'em with the old double reverse option to Mitch Trubisky..."
(The Bears still lost.) (Poor Chicago Bears.) (See you next week.)