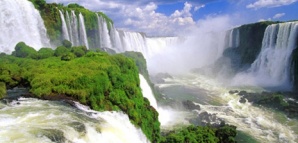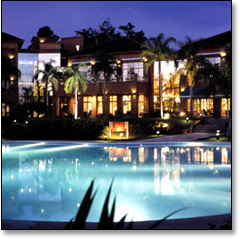 If your kind of holiday includes a Jacuzzi with cacao and celebrity politics, welcome to Foz de Iguazu.
Sitting quietly in a lush patch of jungle next to Iguazu Falls' 275 roaring cataracts (think Niagara times 275), the
Iguazu Grand Hotel Resort's
marble-accented suites protect celebs-in-hiding (from Penelope Cruz to Antonio Banderas) and politicos—South American presidents occasionally convene here for oil chats (Chavez likes the bunker under the spa, so don't book that one unless you want to piss him off).
Follow the scent of Cohiba cigars to the
Lobby Lounge
, where you can discuss grand plans for oil drilling over whiskeys. Take the lead from the locals who travel from afar to feast on the succulent hunks of traditional
Asado
 that sizzle over an open fire at the open-air
La Terraza
restaurant. End your days with cacao spa treatments and your nights with rousing shows of Tango cabaret (we've heard the best backdrop for diplomacy discussions). But all work and no play gets old, so take a day trip and water raft to the base of the Falls or canopy through the jungle amongst the toucans and other wildlife.
But don't go too far, because you never know when you'll be called back for a quick summit in the hot tub.