Any true Tampa native will tell you that enduring the intricate, annual passions of Buccaneer fandom can be borderline torturous. Since 2002, the year of our lone and glorious Super Bowl victory, we've climbed the beating hot steps of Raymond James Stadium to slews of obnoxious offense, dopey head coaching and Josh Freeman. Yet through all the mess and mediocrity, the tiniest beacon of hope will always remain stubbornly in the back of our minds. If last night's first episode of
Hard Knocks
is any indication, HBO once again did their homework in capturing the very essence of what it means to bleed black and red.
Within the first 15 minutes of the premiere, narrator and steely-eyed missile man Liev Schreiber took us back through a highlight reel of glory days, only to cut right back to the present haze of perfectly optimistic chaos—just as any loyal Bucs fan catching a Sunday afternoon buzz would do. For every dropped touchdown pass, we'll tell you about the time Ronde Barber "took a couple back fer six against Donovan McNabb and those goddamn good-fer-nuthin' Eagles." For every missed playoff berth, we'll show you how our buddy Pierce once bought a triple-XL Keenan McCardell jersey at a Brooklyn thrift store because FIRE THE CANNONS, BROTHER.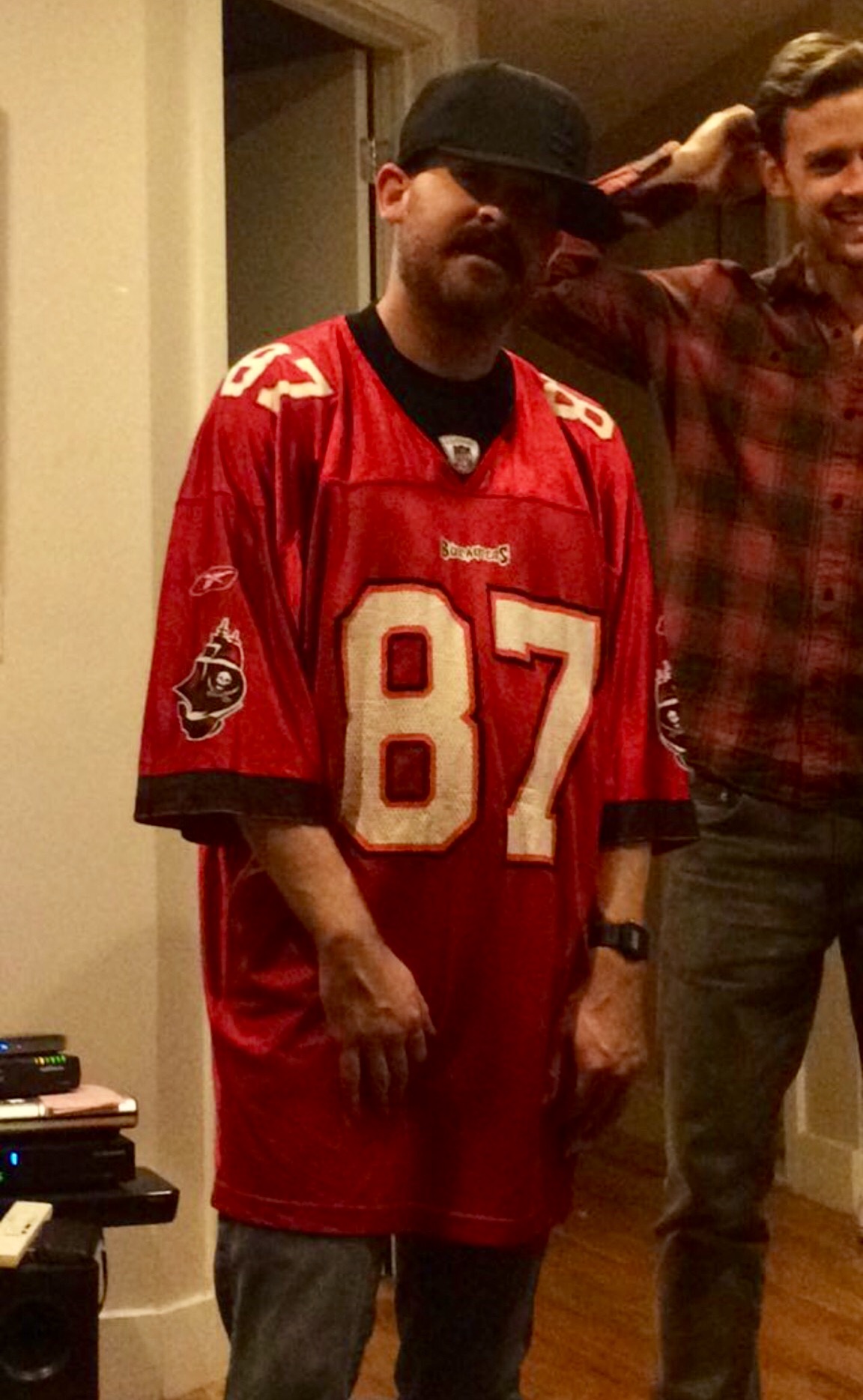 But the best part about
Hard Knocks
lies not in hope, the camp coverage or even the stories. It's the personalities that make this show so damn intoxicating. The feeling of getting to know your favorite players on a more personal level is a good one. So in the spirit of making new, incredibly rich and famous friends, let's create a weekly power ranking of
Hard Knocks
personalities.  
5. Kwon Alexander
I have to consider my life a complete, miserable failure for never dying my hair red and walking into work saying I'm coming in "red hot like a Cheetoh."
#HardKnocksNow:
Does @kwon's hair make you hungry?

TONIGHT! @TBBuccaneers pic.twitter.com/ta3DrKSstV— NFL Films (@NFLFilms) August 9, 2017
4. Jeremy McNichols and Snoop Dogg
Rookie running back Jeremy McNichols might have damn-near saved his job in the very first week with a hotel-room FaceTime to "Coach Snoop". I can't tell you how winding of a plot twist was for me. Jeremy McNichols sounds a whole lot like the name of a middle school algebra classmate who made sure to inform you that no, you cannot borrow his pencil, and a less lot like the name of a professional football player. And then he just… calls Snoop Dogg. It was perfect.

3. Gerald McCoy
One of my favorite parts of the episode was the very opening scene in the auditorium when HBO cut to a kimono and hachimaki-clad McCoy right as Head Coach Dirk Koetter was talking about how much talent was packed into the room. That's a little thing called quality production value. Another notable moment was McCoy getting his two young children dressed for the day. While his daughter sings out a truly impressive tune about breakfast, his youngest son gives us a bit of a jarring, heart-sinking moment when he asks his dad if he's going to get shot at work today. McCoy simply brushes it off with a comforting, "At football practice?! Nah…" But it's a pretty significant glimpse into the life of an African-American dad that I think a fair amount of people in Florida, let alone America, could use seeing.

2. Jameis Winston
While Winton's skill set and leadership will keep him positioned in the team's captain seat, it's his undying charisma and personality that will keep him front and center on
Hard Knocks
. I'm also fairly certain the Bucs are probably perfectly happy with HBO displaying Winston's humble, compassionate nature and not... literally anything else about what may or may not have happened in Winston's past. Regardless of opinion, I'm not sure how you could watch young Jameis tell the only young girl at a boy's youth football camp to "keep following her dreams" and not raise a triumphant fist pump on your apartment sofa.  And imagine watching this 23-year old quarterback give a tour of his cockroach-laden childhood home and not feel the underlying need to accomplish everything mother nature has to offer today:
Hard Knocks or a new nature doc hosted by @Jaboowins, a.k.a. The Crocodile Hunter w/ Roaches?? #HardKnocksNow @TBBuccaneers @HBO pic.twitter.com/39j2NSgOp5— NFL Films (@NFLFilms) July 30, 2017
Oh, and here's Winston's immediate reaction to rookie linebacker (and future potential power rank star) Riley Bullough's soulful rendition of a Fetty Wap classic:
When you hear @RileyBullough's rendition of a @FettyWap song #HardKnocks pic.twitter.com/dawo0pjBrG— NFL Films (@NFLFilms) August 9, 2017
His time and dedication to his family, teammates, and craft is uncanny throughout the entire episode. As Gerald McCoy put it, "Number 3 is the franchise." I can't wait to spend the next 5 months with Jameis Winston.  
1. Bucs Fans
We're getting the number one spot this week (and only this week) simply because I cannot think of a bigger winner. Watching this team come together over the next several weeks is going to be so much fun. But the connection built through a truly intimate look into these players' lives is a bond that could last longer than the show itself.  They're not just players a field anymore for our spectatorship. These are
our guys
.
Next time, we want to rip Gerald McCoy's limbs off for missing a gap, we can think about his daughter singing the egg and bacon song (and how he used those limbs to get her dressed in the morning). They're fathers, dreamers, and workers just like us. All they really want to do every single day of their lives is talk about
Game of Thrones
… just like us. Just as Jameis Winston is "so happy" that Jon Snow and Khaleesi are finally making the sparks fly, I am so happy that the Tampa Bay Buccaneers are on this year's 
Hard Knocks
.