Netflix has been on a tear lately. And we're not talking about all the hits they're churning out. Quite the opposite.
They've been cancelling their original programming series at an unprecedented pace. Just this past month they pulled the plug on
The Get Down
after only one season—giving it the dubious distinction of being the first one-and-done series on the network. They also got rid of fledgling shows
Sense8
and
Girlboss
in the same timeframe. Those cuts came on the heels of late 2016's swings of the axe, ending
Bloodline
after just three seasons, when creators had already projected for six, and bailing on the money-hemorrhaging
Marco Polo
after just a second season and with, presumably, much more exploration to be done. (Can we at least just get one more episode, dedicated entirely to how he created his namesake pool game?)
All of which might sound like the first leak has sprung in the bow of the S.S. Peak TV, but really, it just means we'll have something to lament for the next decade-plus, then a reboot to get excited about. You know, like
Twin Peaks,
a show that only lasted two seasons, ended in 1991 and is now enjoying a major renaissance on Showtime, internet fan theory forums and in the hearts and minds of people everywhere who like telepathic logs or whatever. 
There's no telling whether or not they knew back in 1991 that
Twin Peaks
would have this sort of afterlife. Because history was not well kept in the twentieth century, before the prevalence of the internet. But we do know this today: there are shows that have been cancelled in the meantime that could become the cult darlings of tomorrow.
So we asked around the office for a few ideas of what we'll be rooting for a reboot of in 2027: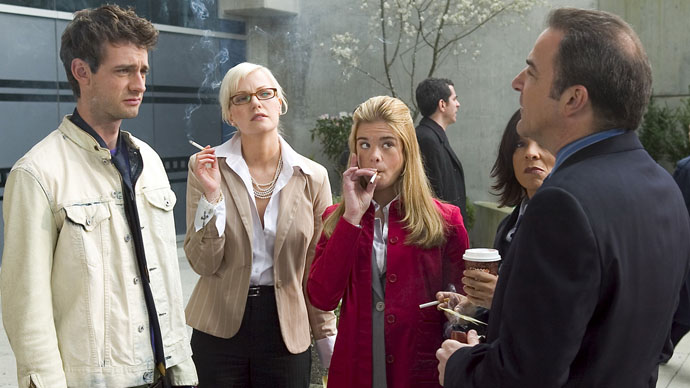 "There was a quirky little show that ran for two season on Showtime from 2003-04 called
Dead Like Me
that revolved around a group of sardonic dead people who had become grim reapers with quotidian existences. It was a sharp comedy with a really likable cast that included Mandy Patinkin and Jasmine Guy, and starred a teenager named Ellen Muth. Muth was great, and I've never seen her in anything since. The show was created by Bryan Fuller, who's forged an admirable career out of creating great shows that die before they ever find their audiences (
Wonderfalls
,
Pushing Daisies
(a spiritual sequel to
DLM
), and
Hannibal
, and has most recently created the TV version of Neil Gaiman's
American Gods
, which has been a critical success, and has already been renewed for a second season, but is on Starz, so how high can the bar be?
Dead Like Me
had a fervent enough fanbase to squeeze a straight-to-DVD movie out of the concept, but Fuller had no real part in it, and Patinkin, a pillar of the show, was replaced by a character played by Desmond from
Lost
. This character wasn't in the show at all. I think the world is finally ready for this show, and most of the stars never really did anything else. Please, Showtime, Netflix, Starz? Anyone, bring it back." -Geoff Rynex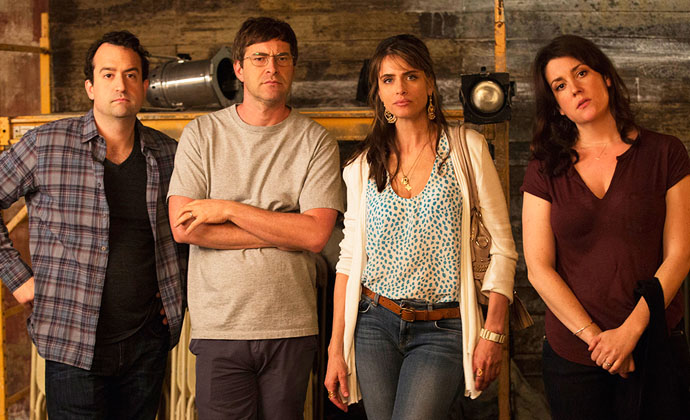 "
Togetherness
. Because how are you going to cancel
Togetherness
? Also, I'm not sure if it was canceled or what, but I wouldn't mind seeing more
Bored to Deaths
. That shit was funny. And if I don't see a goddamned
Small Wonder
reboot in my lifetime, I'll question if it was all really worth it." -Hadley Tomicki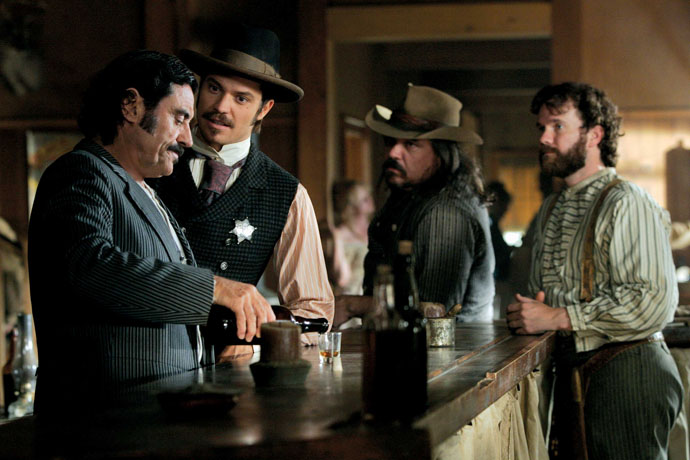 "What I wouldn't give to have just one more seasons' worth of Al Swearengen being a mean penis to everyone around him on
Deadwood
. He's basically the only reason I watched the show and would be the only reason I'd tune in for a reboot. Unrelated: Anyone ever seen
Party Down
on Starz with Adam Scott and the guy who plays Gilfoyle on
Silicon Valley
? I'm not sure how that's not in its 19th season, but I do know that the world needs more caterer-based comedies that know how to properly deploy Jane Lynch." -Kelly Larson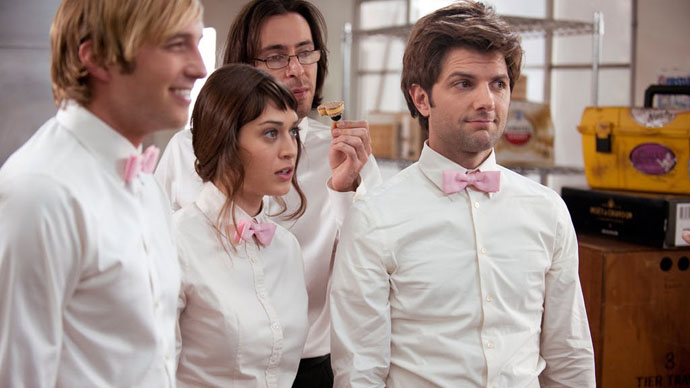 "I'd like to second the call for a
Party Down
reboot. That show was canceled a billion seasons too soon. The format--a different party per episode--was perfect for a comedy series. And while we're on the topic of things Paul Rudd was involved in...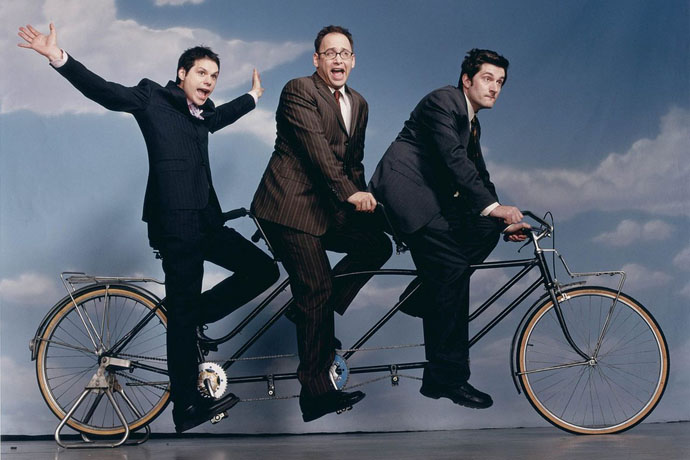 Please, please, please let there be a
Stella
reboot. When I've asked people whether they've heard of this show in the past, they either have no idea what you're referring to or have seen every episode more than once and want to talk your ear off about how fucking awesome it is. The series, which ran for just one season on Comedy Central in the summer of '05 (ah, the summer of '05), built the kind of cult following that made the show unsustainable 12 years ago but would've certainly kept it alive in the era of long tail TV programming. Co-created and starring David Wain, Michael Ian Black and Michael Showalter--who performed in a comedy group of the same name, and who have been experiencing a renaissance as of late with the
Wet Hot American Summer
Netflix reboots--the series played as a goofy cross between sitcom and long-form sketch comedy. (If you recall
that classic scene in the original Wet Hot American Summer, when the counselors head into town for a day and end up in a Trainspotting-like heroin den
, only to return to the grounds as sunny as ever an "hour" later, you'll understand the underlying ethos of
Stella
.) Also, just consider who these guys are friends with: Paul Rudd, Amy Poehler, Bradley Cooper, Ken Marino, Elizabeth Banks...Bam. That's, like, five reasons to reboot this thing right there." -Sam Eichner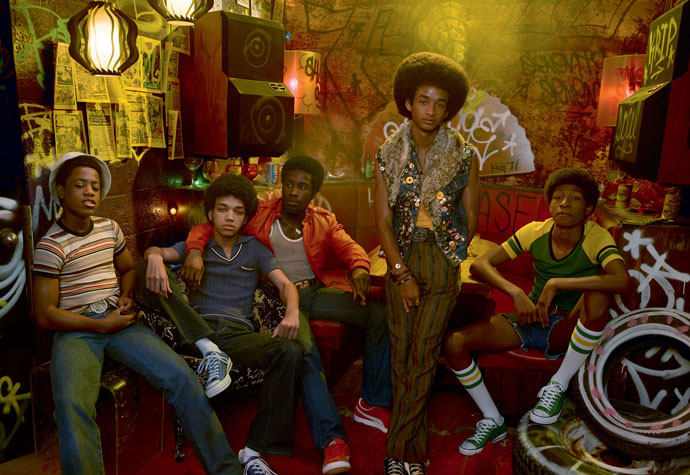 "I'm going with
The Get Down
, because it is freshest in my mind. I actually didn't get around to watching it until after I saw Baz Luhrmann's open letter a few weeks ago about how he had to let the series die so he could live, or something like that. Anyway, I did finally watch it and found myself genuinely invested in the story—a group of plucky Bronx teens and Jaden Smith navigate the neglected fringes of a city filled with corruption, drugs, roving kid gangs, and terrible disco during the nascent days of Hip-Hop in the late 1970s. The first season was split into two parts and by the second half, the show had really hit its stride. But apparently the whole thing was cursed from the start. Baz Luhrmann did a lot of Baz Lurhmann things (most of which the show could have done without) and it ended up being the most expensive television show ever made. Like, ever. And it was not putting up
Game of Thrones
viewership numbers. So Netflix balked. But the show was actually good (which I'm sure Uncle Baz had a lot to do with) and maybe it isn't too late to right this wrong?
TGD
would be just as good if not better without all the expensive Luhrmannyness anyway. Come on Netflix! This could be a reboot in real time! Otherwise, I'm happy seeing this go the way of
Freaks & Geeks
, the greatest single-season teen-driven show of all time. And the parallels are there. It's about high school kids. They both used disco as an agent for hate. They both have Kevin Corrigan playing a morally ambiguous guy you ultimately end up liking in a weird way. And they were both gone from our lives far too soon. Fare thee well, Get Down Brothers. " –Najib Benouar