Sometimes, in an attempt to sneak a peek into the interior lives of the rich and famous, we're forced to launch an investigation into the evidence at the public's disposal. By which we mean, grossly overanalyze whom these people choose to follow on Instagram.
Today, we're taking on mononymous Disney channel starlet, known Bella Thorne collaborator and
Spider-Man: Homecoming
co-star, Zendaya. Whether or not her character, suspiciously nicknamed "MJ," will be a love interest for the new Peter Parker is up for debate. In the meantime, here's what we learned from our investigation...
The Numbers

Posts:
3,206
Followers:
42.7 million
Following:
919
Follows That Fall Within the Bell Curve
After an exhaustive scroll through Zendaya's Instagram "following" list, we can confidently say that the actress/singer is into: hipster-y male models (ala
Luka Sabbat
), Africa-inspired art, Broadway musicals, obscure and/or up-and-coming rap/hip-hop artists, esoteric streetwear brands (
40s and Shorties
?) and the NBA. All things considered, girl's got taste. And we've got to respect her for using her social platform to throw some support behind artists, musicians and fashion brands most people have never heard of before. It's just that sort of "I don't care what everyone thinks, let's make out upside-down" selflessness that a good MJ needs.
The Outliers
There were some follows that made us stop and go, "Huh. Ok. Guess she's into that." These were they.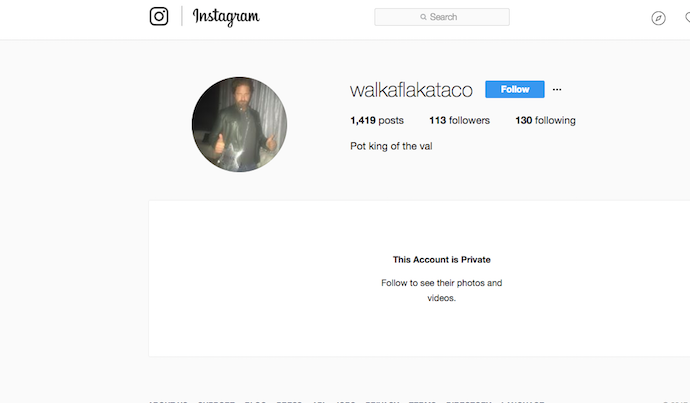 Walkaflakataco, with 113 followers, is the self-proclaimed "pot king of the val." Firstly: I'm not from the "val," but do people in the "val" call it the "val"? That was supposed to be rhetorical and yet now that I think about it, the answer is probably yes?
Secondly: How into pot do you have to be to be the "pot king" of a place where literally everyone smokes pot? Feels like something that would only be cool to say if you were the first kid in your high school to try weed, and wanted all those
newbs
to know about it.
Thirdly: I have a hunch that Walkaflakataco is actually Father John Misty. What this means for Zendaya's career is still up in the air, but suffice it to say: she's in on the joke.
I'm not really sure where elliotshorts (aka Elliot Schwartzman) comes into play. His brand of "melancholic bro at summer camp" folk is not necessarily in keeping with "
lilrichswagg
" and Zendaya's other, more unique musical tastes. Here, though, is a short series of highly suspect facts: 1) Zendaya was once an Old Navy model; 2) Mr. Shorts looks like what a child Old Navy model would look like as a grown-up aspiring folk singer. If you're thinking what I'm thinking, I agree: it is indeed chill that Zendaya did not leave her Old Navy friends behind when she became famous. Her sense of loyalty will undoubtedly influence her portrayal of MJ.
Zendaya is apparently so into getting massages that she was willing to throw her masseuse an Insta follow. No comment.
I'm not afraid to say it: the Dalai Lama has what might be the most mundane Instagram account for a world-renowned public figure on Instagram. I mean, dude
always
wears the same thing. But then again, maybe he's just trying to bore us into a meditative, zen-like state, or teach us something about the values of asceticism as it relates to social media. That would be classic D-Lam. Anyway, it's clear that there's no reason to follow the Dalai Lama unless you're a Tibetan Buddhist. I count this as a genuine discovery.
It's understandable that ostensible sportz fan Zendaya would follow NFL stars like Cam Newton and Odell Beckham, Jr. But former Atlanta Falcons practice squad member and current Toronto Argonauts safety Kimario McFadden? That is a DEEP cut. Unless you're shadily a huge Argonauts fan. In which case it's only slightly less deep.
Tentative Conclusion
Zendaya is a young, talented, loyal Instagrammer of diverse, yet particular tastes. She's not afraid to zig where others zag (see: Toronto Argonauts fandom). Given her asceticism and penchant for massages, she's likely very calm. All of which would make her the most interesting MJ to date. Emma Stone never stood a chance.