You weren't looking for anything serious. Just a little dirty fun. And boy, did you find it. Right on top of the table. Pure pleasure, with lips open. Biting... swallowing... all the tricks. Here's a look back at all the wanton gratification June served up on your plate, you dirty animal. It's June's Most Inappropriate Dishes, a forum in which all your deepest, darket food fantasies are welcome.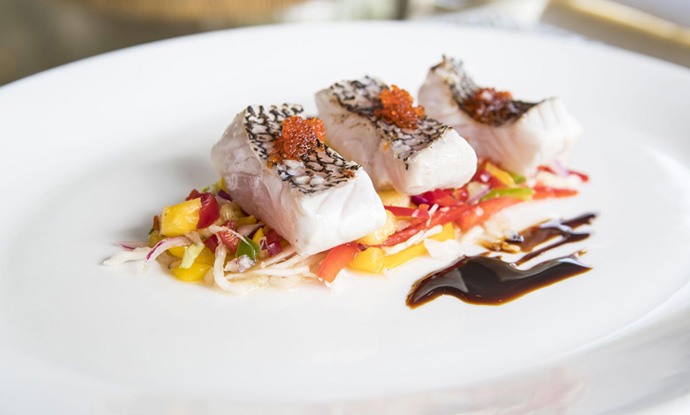 You'd never been with a torched fatty bass with vinegared corn and shallot relish before. Then you escaped to Montauk for the weekend and happened to run into a place called
Flagship
while working on your tan out on the waterfront. Its rough skin belied a soft, pliable interior that had you moaning audibly and conclusively hooked.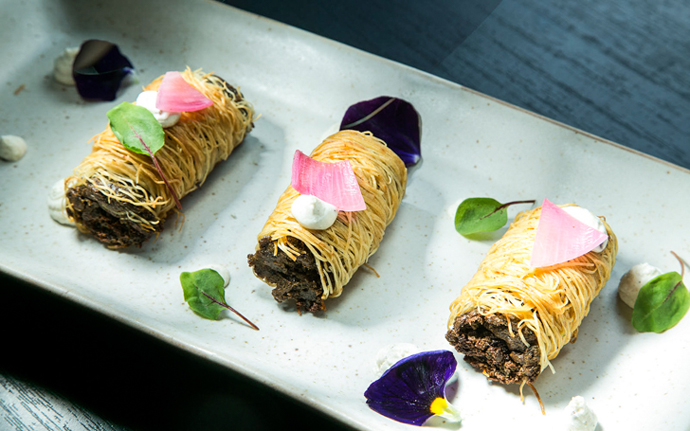 When
aRoqa
rolled into Manhattan, you thought you'd take a taste. Little did you expect the tables to be turned so quickly. Tied up tightly in a nest of saffron croquettes with wild mushrooms and goat cheese relish. And begging for more.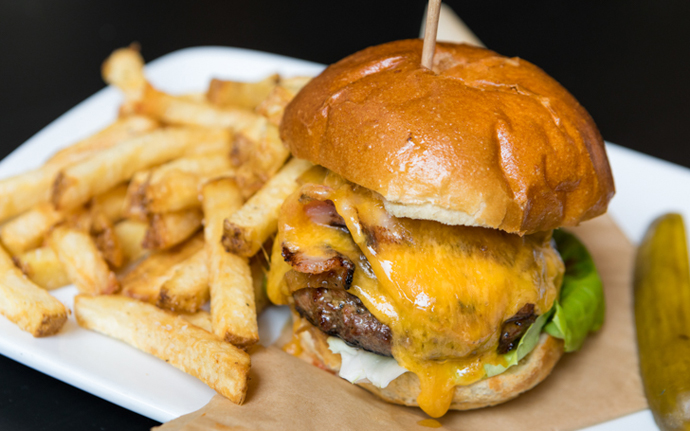 It's always special when an old friend returns to town. Not that your flirtations with Hollywood's
Cat & Fiddle
were ever purely innocent. But it's nice to see you two back together throwing abandon to the wayside, befouling every digit as you wrap both hands around a juicy burger dripping in Gloucester cheese.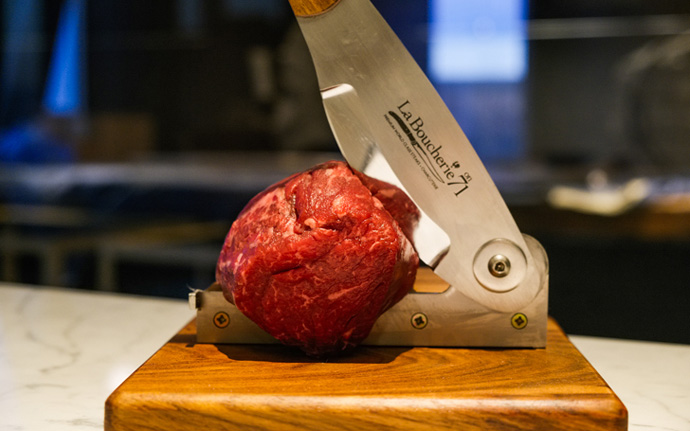 You looked good and you knew it. Dressed to kill and ready to be stuffed full of meat. That's when you ascended the hugest erection west of the Mississippi, LA's new Wilshire Grand Center. And you rode that thing straight to the top, not stopping until you got what you wanted: the guillotine steak at
La Boucherie on 71
.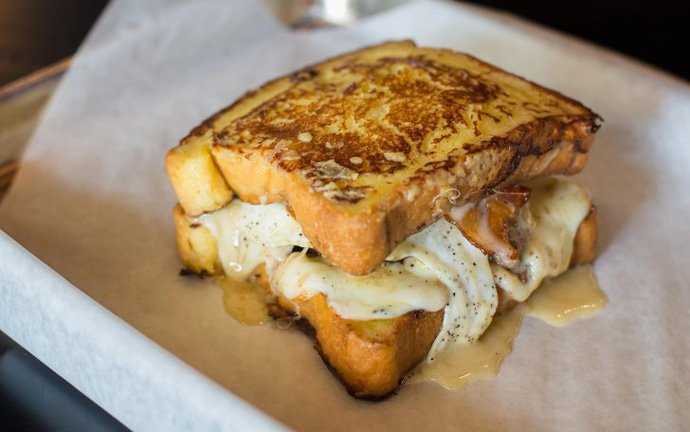 Go ahead and take a bite, worm. You deserve it. Eyeing
Killer Melts
' double burger patties like that. Imagining these Miami beauties covered in cheese, porked hard with some bacon, then messily bookended between swollen slabs of French toast. We bet you'd like to spread egg and mascarpone cream all over that, wouldn't you? Now eat it!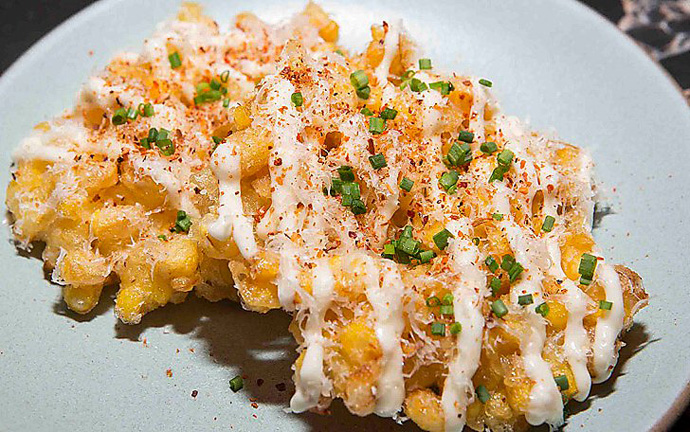 You heard good things and figured you'd hook up with it for yourself. But then the tempura elote at Chicago's
Proxi
wasn't exactly what you expect elote to look like. You probably should of looked its picture up online first. Nonetheless, you devoured it with enthusiasm, its cream-spattered batter exploding like hot magma in your mouth. And you'd do it again, too.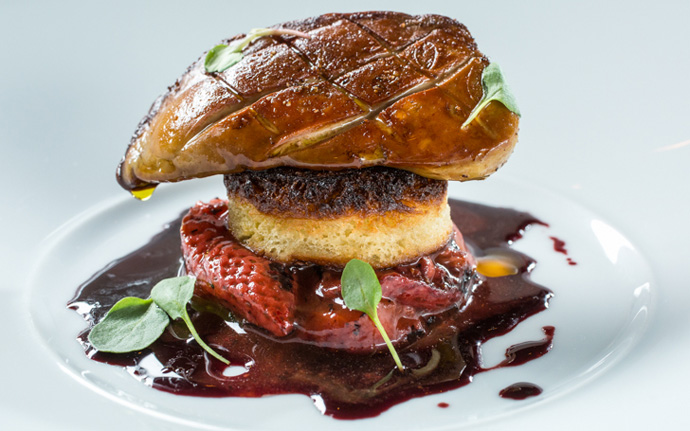 The quivering organ stood trembling before you. Soft. With a dripping tip. When you were finished with
MB Steaks
' seared Sonoma foie gras with strawberries and sherry reduction, you sauntered back out into the wet Vegas night. A little ashamed. But fully satisfied.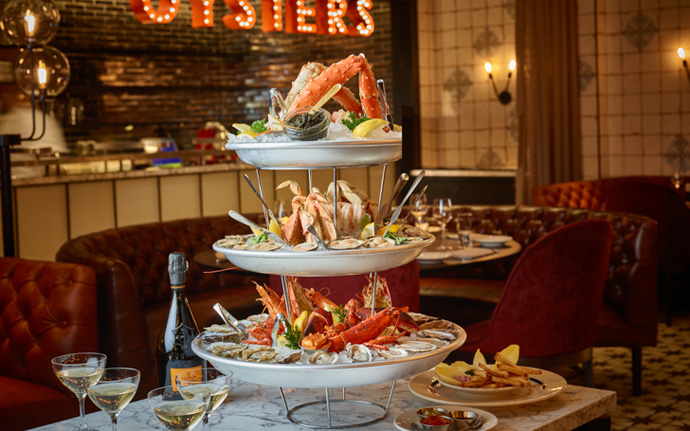 Springing $999 on a seafood tower? That's insane. Then again, you are in Vegas. And the Cosmopolitan at
Blue Ribbon
is only taking dates here. And it has a heart of gold. Plus two lobsters, a bottle of Veuve and some Siberian caviar that goes by the name Svetlana. Just please, wear a condom.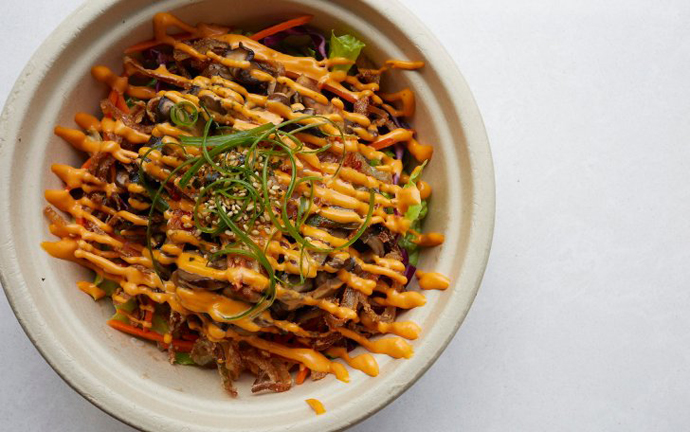 Bulgogi has always been a fairly shy bowl. So imagine its surprise in having its fair countenance blasted from every direction with viscous ropes of hot sauce? San Francisco's
Saucy Asian
did that without thinking twice. Because it was paid to.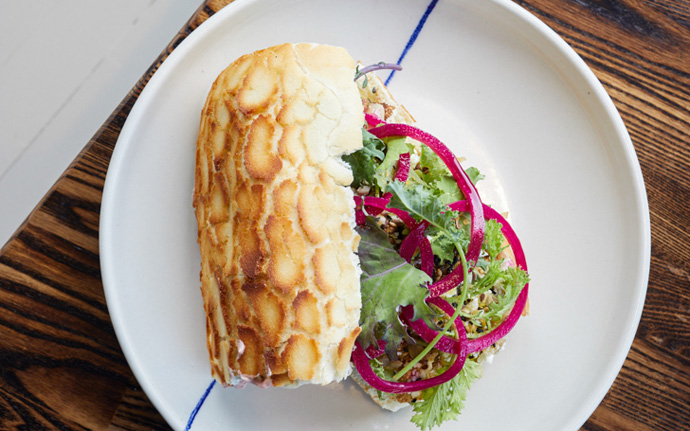 This is just a solid chicken sandwich with pickled onions and Douglas fir from San Francisco's
RT Rotisserie
. Get your mind out of the fucking gutter.