Steak and whiskey are two of life's finest luxuries.
But neither qualifies as a "superfood."
We were just as shocked as you are.
Turns out, superfoods are generally regarded as being natural foods that are high in nutrients and low in calories. Think berries, avocados and kelp.
But if you want to stock your diet with such things, you don't have to wrest fresh berries away from a bear or hang off the side of a boat to grab kelp straight from the ocean. You can just purchase them at the store. In the case of the latter, you can even find it as hot sauce that's ready to dash onto all your favorite foods.
Bullwhip Kelp Hot Sauce comes from Barnacle Foods, an Alaskan company that's turning the area's natural bounty into packaged goods like hot sauce, chile crisp, barbecue sauce and salsas. And, in most cases, they're enlisting the humble kelp to make it happen.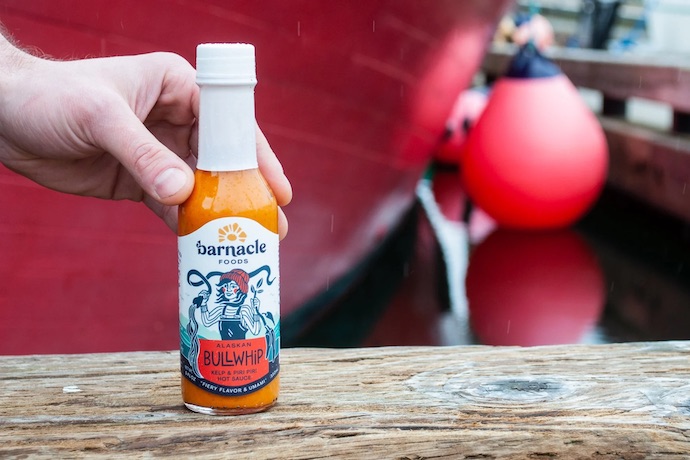 Kelp grows naturally in oceans. It's savory and crisp, giving foods a richer taste and imparting notes of umami. It's also full of vitamins and minerals. So, there's a lot to like about the ubiquitous green plant.
Barnacle Foods Bullwhip Kelp Hot Sauce is described as "flavor first, heat second." It's made from bull kelp, piri piri peppers, vinegar, tomato and salt. Dash it on quesadillas, breakfast skillets, avocados and burritos, or dose your soups and stews. Basically, put some on anything that could use a touch of heat.
There's also a barrel-aged version that attains extra complexity after sitting in barrels for a year, plus a serrano hot sauce that's bright and tangy, perfect for fish tacos and eggs. So, you've got a few options. To avoid making difficult decisions, just score all three via the variety pack. Then you're all set to apply these hot sauces to everything you eat.
With each application, you can pat yourself on the back because you're consuming superfoods. And you can marvel at the fact that, against all odds, Alaska makes hot sauce.