If you want to eat and drink well when traveling, it's helpful to consult best-of lists ranking the world's top bars and restaurants.
But if you want to get more granular, and partake in a globetrotting expedition to uncover the world's finest pizzas, then you turn to 50 Top Pizza, an Italian organization that evaluates pizzerias and then selflessly ranks them for our benefit.
Its 2023 list was just released, and it's highlighting the 100 best pizzerias in the world. Now, it's unclear why 50 Top Pizza ranks 100 pizza joints, but we're not here to investigate such matters, only to relay the vital intelligence sourced from within.
In a fun twist, the list actually includes 101 spots, because there's a tie for number one between 10 Diego Vitagliano Pizzeria in Naples and I Masanielli Francesco Martucci in Caserta. But the U.S. puts up a good fight, with New York's Una Pizza Napoletana ranked number two and Razza Pizza Artigianale in Jersey City ranked number 11. Also in the top 20 is Ken's Artisan Pizza in Portland, Oregon, at number 18 and Tony's Pizza Napoletana in San Francisco in the 19th spot.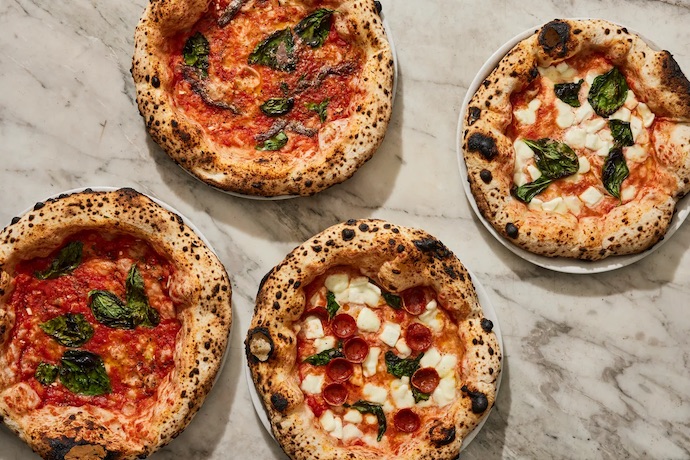 All in, there are 15 stateside pizzerias in the mix, so you can eat well close to home. But if you want to set your sights further afield, you'll find top-ranked pizzas in Tokyo, Copenhagen, Auckland, Melbourne and Hong Kong. You'll even find one in North Macedonia.
Which drastically increases your chances of ever visiting North Macedonia.
100 Best Pizzerias in the World
1. 10 Diego Vitagliano Pizzeria – Naples, Italy
1. I Masanielli – Francesco Martucci – Caserta, Italy
2. Una Pizza Napoletana – New York, USA
3. Sartoria Panatieri – Barcelona, Spain
4. The Pizza Bar on 38th – Tokyo, Japan
5. I Tigli – San Bonifacio, Italy
6. Seu Pizza Illuminati – Rome, Italy
7. 50 Kalò – Naples, Italy
8. Bottega – Beijing, China
9. 180g Pizzeria Romana – Rome, Italy
10. I Masanielli – Sasà Martucci – Caserta, Italy
11. Razza Pizza Artigianale – Jersey City, USA
12. Francesco & Salvatore Salvo – Naples, Italy
13. Bæst – Copenhagen, Denmark
14. 50 Kalò – London, England
15. Dry Milano – Milan, Italy
16. Cambia-Menti di Ciccio Vitiello – Caserta, Italy
17. Via Toledo Enopizzeria – Vienna, Austria
18. Ken's Artisan Pizza – Portland, USA
19. Tony's Pizza Napoletana – San Francisco, USA
20. La Notizia 94 – Naples, Italy
21. Pizzeria Bianco – Phoenix, USA
22. Ribalta – New York, USA
23. Pizzeria Peppe – Napoli sta' ca" – Tokyo, Japan
24. Confine – Milan, Italy
25. 0′ Munaciello – Miami, USA
26. Le Grotticelle – Caggiano, Italy
27. Carlo Sammarco Pizzeria 2.0 – Aversa, Italy
28. Jay's Artisan Pizzeria – Kenmore, USA
29. Pepe in Grani – Caiazzo, Italy
30. La Cascina dei Sapori – Rezzato, Italy
31. Apogeo – Pietrasanta, Italy
32. Pizza Zulù – Fürth, Germany
33. Song' E Napule – New York, USA
34. Denis – Milan, Italy
35. BOB Alchimia a Spicchi – Montepaone Lido, Italy
36. Allegrìo – Rome, Italy
37. Pizzeria Da Lioniello – Succivo, Italy
38. Ti Amo – Buenos Aires, Argentina
39. 400 Gradi – Lecce, Italy
40. Pupillo Pura Pizza – Frosinone, Italy
41. 48h Pizza e Gnocchi Bar – Melbourne, Australia
42. Fratelli Figurato – Madrid, Spain
43. Fiata by Salvatore Fiata – Hong Kong, China
44. Via Toledo Enopizzeria – Dubai, United Arab Emirates
45. Forza – Helsinki, Finland
46. Napoli on the Road – London, England
47. Dante's Pizzeria Napoletana – Auckland, New Zealand
48. nNea – Amsterdam, The Netherlands
49. Pizza Massilia – Bangkok, Thailand
50. La Balmesina – Barcelona, Spain
51. QT Pizza Bar – Sao Paulo, Brazil
52. Pizzeria Mazzie – Bangkok, Thailand
53. IMperfetto – Puteaux, France
54. Crosta Pizzeria – Makati, Philippines
55. 'O Scugnizzo – Arezzo, Italy
56. Renato Bosco Pizzeria – San Martino Buon Albergo, Italy
57. Frumento – Acireale, Italy
58. Sbanco – Rome, Italy
59. Fandango– Potenza, Italy
60. Pizzeria Le Parùle – Herculaneum, Italy
61. Giovanni Santarpia – Florence, Italy
62. La Pizza è Bella Gourmet – Brussels, Belgium
63. Al Taglio – Sydney, Australia
64. Baldoria – Madrid, Spain
65. Giangi Pizza e Ricerca – Arielli, Italy
66. Pizzeria Panetteria Bosco – Tempio Pausania, Italy
67. Modus – Milan, Italy
68. Clementina – Fiumicino, Italy
69. La Bolla – Caserta, Italy
70. Palazzo Petrucci Pizzeria – Naples, Italy
71. 'O Fiore Mio – Faenza, Italy
72. Kesté – New York, USA
73. La Leggenda Pizzeria – Miami, USA
74. Sant'Isidoro – Pizza & Bolle – Rome, Italy
75. I Borboni Pizzeria – Pontecagnano Faiano, Italy
76. Pasquale's Pizzeria Napoletana – South Kingstown, USA
77. Kytaly – Geneva, Switzerland
78. Maiori – Cagliari, Italy
79. La Piola Pizza – Brussels, Belgium
80. Forno d'Oro – Lisbon, Portugal
81. Demaio – Bilbao, Spain
82. Pizza Strada – Tokyo, Japan
83. Pizzeria Chicco – Colle di Val d'Elsa, Italy
84. What the Crust – Cairo, Egypt
85. A Pizza da Mooca – Sao Paulo, Brazil
86. L'Antica Pizzeria – London, England
87. Malafemmena – Berlin, Germany
88. Pizza Studio Tamaki Roppongi – Tokyo, Japan
89. Surt – Copenhagen, Denmark
90. Il Caffè – Dubai, United Arab Emirates
91. Guillaume Grasso – Paris, France
92. Ops – New York, USA
93. Spacca Napoli Pizzeria – Chicago, USA
94. 'O Ver – London, England
95. Pizzeria Luca – Copenhagen, Denmark
96. a mano – Makati, Philippines
97. Fabrica Pizza – Tampa, USA
98. San Gennaro – Zurich, Switzerland
99. Matto Napoletano – Skopje, Republic of North Macedonia
100. Leggera Pizza Napoletana – Sao Paulo, Brazil