This week, in unbelievably strange bedfellows...
Pamela Anderson, she of the slow-motion running on the beach, has penned a rather articulate blog post pleading with world leaders to release WikiLeaks founder and egomaniacal misogynist, Julian Assange, encouraging rumors of a romantic dalliance between the two.
The post is called "
Why My Heart Stands with Julian
," and it is in part a glorified compendium of things she finds sexy about Julian.
Here are a few of those things, in no particular order:
1) Taking on Leviathan and winning.
2) Not flinching.
3) Putting everything aside to stand up to bullies, including ultimate bullies, like world superpowers with 1,200 military bases around the world.
4) Standing by one's convictions.
5) That beautiful Draco Malfoy mane.*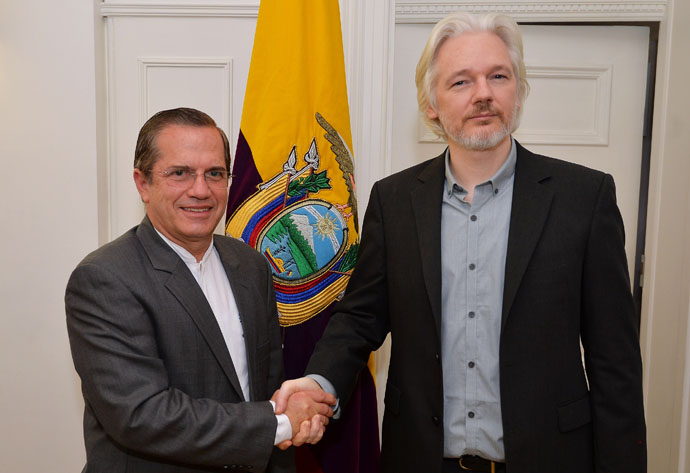 *Completely made-up.
At the end of the post, Pam also shares a William Ernest Henley poem, which we've chosen to republish here in full:
(For Julian)
Invictus

Out of the night which covers me,
Black as the pit from pole to pole,
I thank whatever gods may be
For my unconquerable soul.
In the fell clutch of circumstance
I have not winced nor cried aloud.
Under the bludgeoning of chance
My head is bloody, but unbowed.
Beyond this place of wrath and tears
Looms but the Horror of the shade,
And yet the menace of the years
Finds, and shall find me, unafraid.
It matters not how strait the gate,
How charged with punishments the scroll,
I am the master of my fate:
I am the captain of my soul.
I love you,
Pamela
Darn. If only I'd known founding a morally questionable organization that's had deleterious effects on our democracy would elicit a Victorian love poem from Pam Anderson...