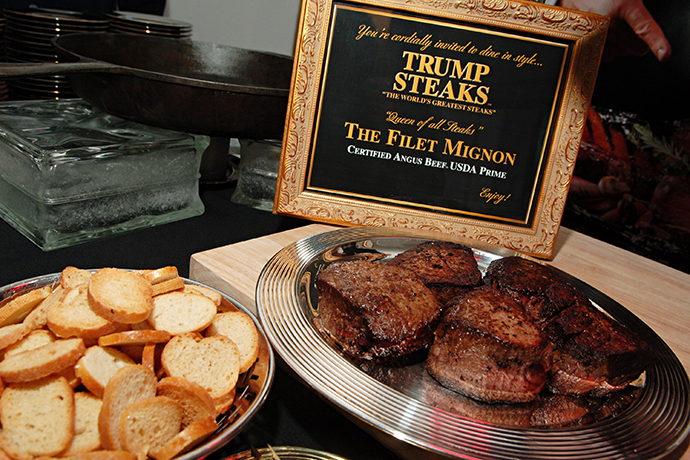 According to the folks at The Cut
, the Trump campaign sent out an email blast on Monday advertising the "Big League Box: a handpicked bundle of exclusive and vintage OFFICIAL Donald J. Trump merchandise delivered to your door every month as a recurring donor."
The editorial team here at UrbanDaddy considered purchasing the $69-per-month box for the purposes of the story. Ultimately, we decided doing so was morally unjustifiable. (Not to mention, a huge waste of 69 bucks.)
So naturally, we decided to speculate as to its contents instead.
Here are our ideas. What do you think he'll put in the box?
—A coupon for 10 rubles off your next order of 12 or more Trump steaks
—Rubber sheets
—Season 3 of
The Apprentice
on HD DVD
—The ghost of Richard Nixon
—A single hand to hold
—A bunch of old Twisted Sister records
—Cup of urine
—Donald Trump Fathead
—Macaulay Culkin
—Racism For Dummies
—Urolagnia For Dummies
—Some old Goosebumps books
—Copies of
The Art of the Deal
from the Barnes & Noble bargain bin
—Grainy reproductions of Melania's old photo shoots
—A gun range target with Glenn Thrush's face as the bullseye
—A full bottle of Heinz ketchup
—Large red ties
—Sean Spicer's testicles in a limited-edition glass display case
—Kellyanne Conway's soul
—Steve Bannon's still-beating heart
—Paul Ryan's spine
—Executive Order mad libs
—Framed Trump University diplomas
—Plugs. You know, for all the leaks.
—Don King wigs
—Ivanka Trump-brand high heels
—A Jared Kushner game-used J.Crew Fall 2016 catalogue
—Framed pictures of
Putin riding a horse
—2-for-1 taco bowls at all Trump golf courses
—An eviction notice (unless you're white)
—Rosetta Stone Level 1-5 Russian box set
—A signed set of regulation Nato Summit shoulder pads
—A commemorative plate depicting trump's landmark second travel ban signing attempt
—Free shipping on Carrier air conditioning units (Mexican-made only)
—20% off all White House tours
—Five randomly selected boxes that contain "golden state secrets"
—Baron Trump's playdate contracts
—The nuclear codes.